Insights
Change The Way You Manage Your Packaging Artwork
Finding an efficient and organised way to manage your global packaging artwork is essential, especially in the digital world. Gone are the days of printing off artwork for approval checks and receiving pages upon pages of handwritten notes. Increasing speed within Brand Management is no longer a luxury, it is an essential process. Communication, now more than ever, must also be efficient and traceable to ensure that your project runs smoothly. Therefore, we are pleased to introduce you to the latest addition to our increasingly efficient Brand Management process, our Springfield Management Information System.
What Is It?
Our new Springfield Management Information System is an extremely flexible tool that can speed up many processes within Brand Management. This Management Information System (MIS) provides brands with increased flexibility and efficiency when managing their projects. Initially collecting each piece of information surrounding the project, including briefing and specification. The system helps eliminate communication issues and increase the project's traceability by providing a true insight into metadata, trends and potential bottlenecks. This new tool integrates with our existing systems to ensure a smooth and efficient process from receiving an order through to print production.
How Will It Benefit Me?
Digital Asset Management (DAM)
Digital Asset Management allows you to store all your assets within the MIS so that you can see each of your artworks immediately, including previous versions and the data behind each one. This information can, in turn, be filtered to find specific information within your assets, including live text search across all artworks. Each word and each sentence are indexed, enabling you to filter through your assets with ease. For example, if X number of artworks require amendments of their copy due to regulation changes, this could be highlighted quickly and sent to the operator for the changes to be made. The DAM system also allows you to download your assets on request for future projects.
Digital Artwork Approval
Our new MIS also allows the customer to view their designs in-depth when utilising the system as a digital approval tool. This tool will enable you to see the product artwork digitally, including any added embellishments and each file's colour separations. Allowing you to check elements such as barcodes, typefaces and line thickness. Approving your product artwork through this system also allows you to maintain consistency throughout your products, ensuring that elements such as colour and layout are uniform. Therefore, improving this process by allowing numerous members of your team to check, annotate and approve or reject the job internally and externally.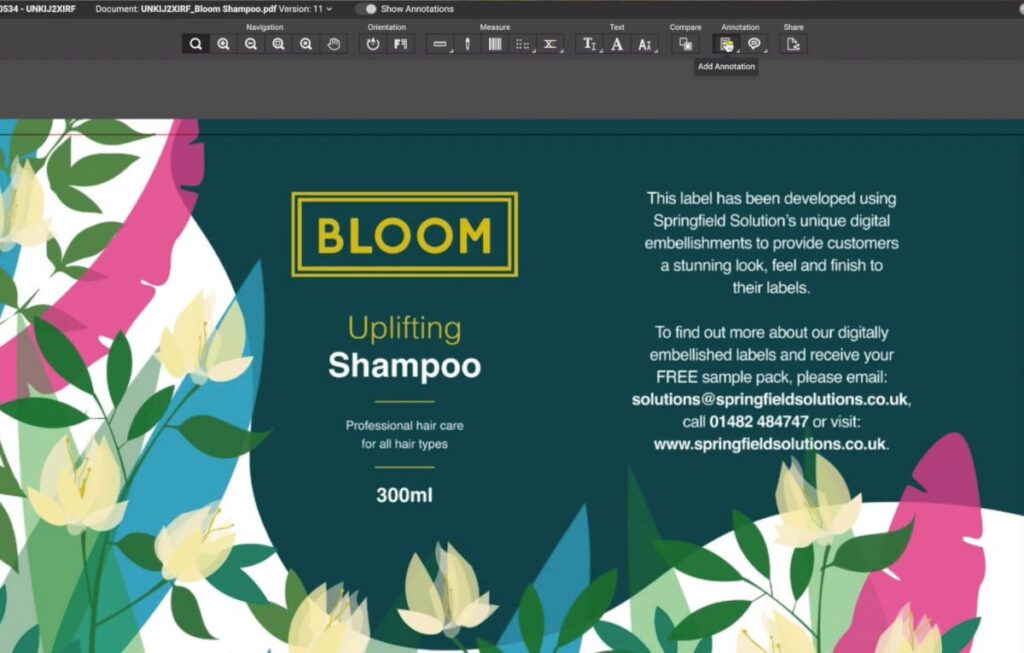 Within this tool, annotations can be added to the design itself to determine amendments that need to be made more efficiently or to discuss the artwork/project at hand. This digital process of collaborative annotation removes the lengthy process of emailing back and forth and improving the communication of artwork approval and amendments. These annotations also include data such as who added the note and when, so that artworks can be sent straight back to our Brand Management team for any proposed amendments to be made. This annotating method takes away the masses of misplaced information and unruly email inboxes, allowing a more organized, streamlined experience.
Progress Tracking
The Springfield Management Information System also enables customers to track the progress of their project with accurate timings and location updates. For example, you will see if your project is in production and this step's time frame. While also displaying real-time interactive reports on various ranges of your products.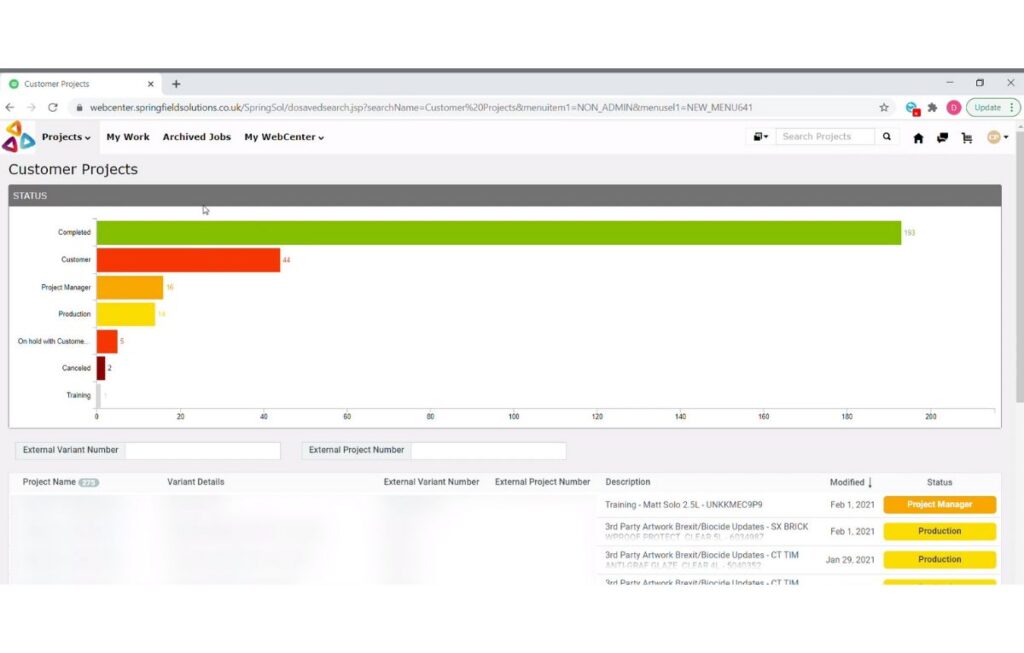 As all communication exchanges are systematically tracked, this tool further streamlines the overall job by eliminating the traditional lengthy chase-up process with accurate real-time updates and automatic notifications.
To summarise, our Brand Management department is constantly evolving and looking for new ways to innovate and improve our process's efficiency therefore, by utilising the system's flexibility and collaborating with our customer, we can increase our customer's organisation and work efficiency to new levels.
The MIS will allow you to track various elements of your customer journey with us, whether you chose to utilise one of the above functions or multiple. For example, in using the Digital Asset Management System, the approval tool and project tracking in unison, you will be able to manage your entire project with us. This will allow you to experience increased efficiency by tracking each asset and step through one integrated flexible system.
To find out more about how our Brand Management team can increase the efficiency of your brand's project, click here.