Insights
Digital Packaging Solutions for CBD Products 
CBD Products are increasing in popularity as CBD companies have seen consistent growth over the past year. This comes as an increasing number of consumers discover the benefits of the products, and more research is done into CBD products' usage and benefits.
The CBD market was predicted by Brightfield to reach around £100million in the UK by 2020. However, the true figure that was achieved turned out to be three to four times that amount. Other estimates suggested that the CBD market would grow at a compound rate of around 11%, whereas that figure now sits closer to 30%. This shows that CBD products are rapidly on the rise, at 3-4 times the expected amount, with immense room to grow.
Therefore, if you are a CBD brand, you must prepare for continued growth with digital packaging solutions. How can we help? Well, some of our 100% digital packaging solutions include;
Self-Adhesive Labels
Extended Content Labels
Digital Label Embellishments
Variable Data Printing
Packaging Mock-Ups
Interactive Labels
Eco-Friendly Labels
Why Choose Digitally Printed CBD Labels?
Digitally printed labels provide a number of benefits to CBD companies, as businesses often have a high number of SKU's due to a wide range of products, strengths and flavours. In addition, digital print provides a highly efficient and flexible way of creating packaging, as no minimum order quantities means that customers can order what they need, when they need it.
Some of the benefits of digital print include;
Zero MOQs
Zero tooling costs
Fast lead times within a maximum of 5-days from receiving your artwork
Versatile label customisation using variable data printing
The Digital Solution to CBD Regulation Changes
Another issue that CBD companies may run into is changing legislation. As it is a relatively new business within the UK, regulations are constantly evolving surrounding CBD products. For example, what you must and must not put on your labels.
CBD products such as oils must currently be labelled as food supplements. However, growth in research may lead to businesses being able to list the health benefits of the products, which will require artwork and labelling changes. Digital print is a perfect solution for this situation, as fast lead times, zero MOQs, and no tooling costs will enable companies to quickly change their labels without large cost and waste.
Eco-Friendly CBD Product Labels
Sustainability and Eco-Friendly packaging are of large importance to consumers, especially young consumers, who are the majority purchasers of CBD products with an average age between 25 and 29 years old. Therefore, businesses must adapt and appeal to their customer base whilst having the benefits of offsetting their own environmental impact.
Our Eco Zone labels offer a range of label materials to assist your sustainable switch. These labels fit into three categories, Reduce, Reuse and Recycle. 'Reduce' labels feature a lesser material weight, leading to less waste being sent to landfill. Our 'Reuse' labels utilise Biodegradable and Compostable substrates and wash off adhesives to facilitate an extended life cycle of packaging components. Finally, our 'Recycle' labels feature recycled content, including PCR (post-consumer resin) and PIR (post-industrial recycled content).
To find out more about our Eco Zone labels, click here.
Premium CBD Packaging
Digital Label Embellishments are an accessible and flexible way to create premium packaging for your CBD products. Our premium packaging options include gold/silver foiling, spot varnishing and embossing/debossing to create a tactile luxury finish that grabs customer attention.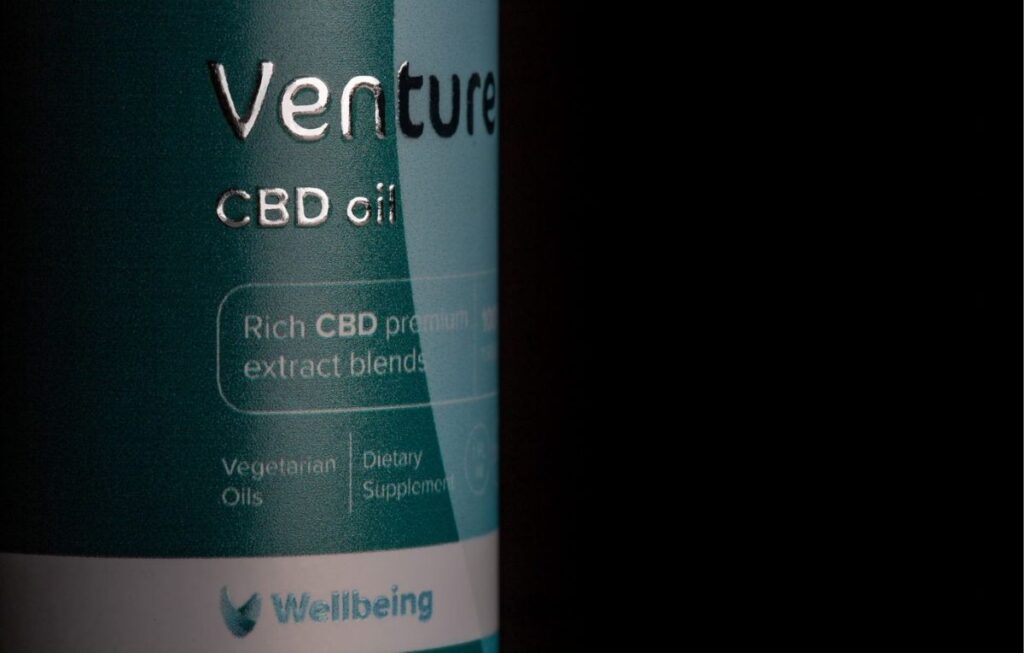 Label embellishments are an effective way to stand out from the crowd with your product packaging design. As CBD becomes more popular, an increasing number of businesses selling CBD products will appear on the marketplace. Therefore, it is important to make sure that your product stands out from your competition.
To enquire about premium packaging for your CBD product, click the button below!
Would you like to claim your free Venture sample?