Insights
Matt Dass On Stage at ADF Paris 2020
ADF Paris – Aerosol & Dispensing Forum – is one of the leading packaging events of the year. It is an event where hundreds of suppliers to the industry showcase their latest and greatest innovations. We are delighted to be showcasing our innovative digital aerosol label SASO®.
As well as exhibiting at ADF our Managing Director and Head of Innovation, Matt Dass is giving a presentation on the Springfield innovation. During the presentation Matt will discuss the benefits of using a digital label to not only fulfil your aerosol decoration needs but deliver agile solutions for your business in a digital world.
The talk is titled 'SASO® – A digital packaging solution for a digital world'. Starting at 1.20pm, on Wednesday 29th January inside the ADF Talks Theatre, Matt will be participating in a workshop that includes GSK, Hutchinson, E-proPLAST and Hinterkopf.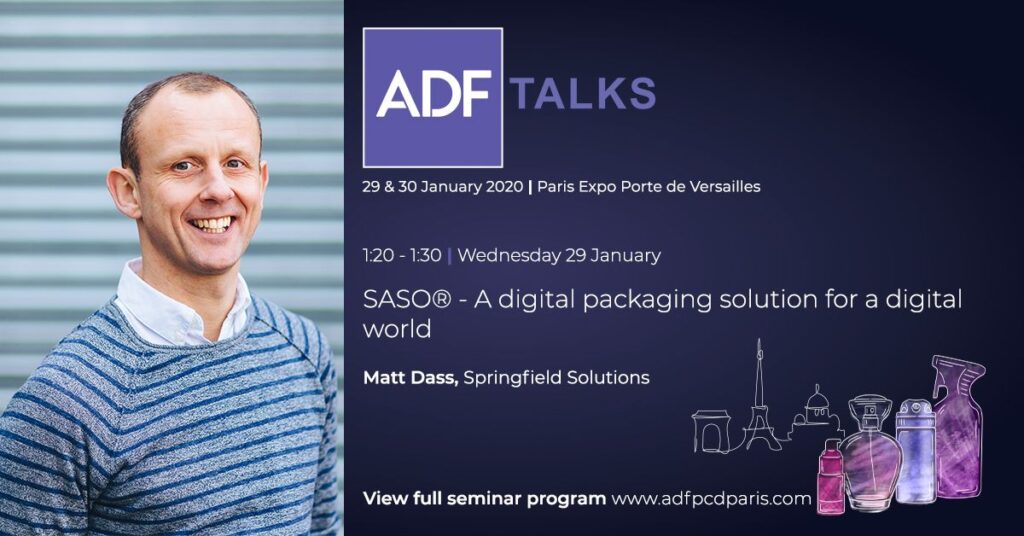 Are you attending the event? If so, make sure you mark this talk down in the diary! If you'd like to find out more information about our industry leading Aerosol innovation SASO®, please click here.
See you in Paris!