Insights
SASO® – What is it and How it Works!
We believe that SASO® is set to revolutionise the industry.
We can produce our innovative SASO® label solution in any size required by our clients. This is a real breakthrough for aerosol manufacturers.
It means that, regardless of the dimensions of the cans they're producing, and regardless of quantity, we can provide a digital label solution. One that matches the quality of traditional print while generating huge efficiencies. 
Here is a short guide to what SASO® is and what it does.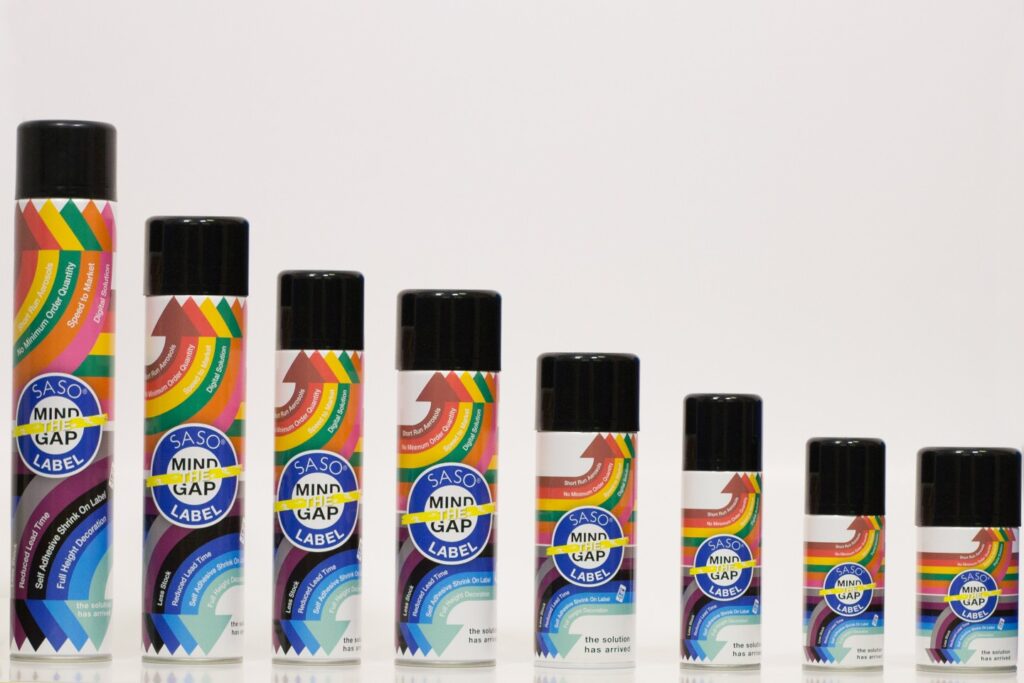 What is SASO®?
SASO® (pronounced say-so) is our digital Self-Adhesive Shrink-On label that has been specifically designed to give seamless, full-height, 360 degree coverage of cylindrical objects.
It is particularly suited to aerosol cans due to its ability to mould perfectly around the taper at the top and bottom of the can. Giving the impression that it is printed directly on to the metal.
The final effect is a perfectly applied digital label, with impressive quality and appearance.
How Does SASO® Work?
The clue is in the name – shrink on. SASO® has two major components that enable it to work and create amazing results.
Firstly, there is the label substrate. We've invested hundreds of hours of R&D to create the perfect substrate which consistently performs how we want it to.
The other component that is essential to SASO® is heat. Which is carefully applied to the label not just to shrink it on to the can, but to mould the top and bottom perfectly around its contours. The finish has to be seen to be believed. Quite simply, it appears to be part of the can rather than a label.
To perfect the heat applicator, we worked with a manufacturer to build a bespoke piece of equipment which produces perfect results every time.
The applicator can be attached to an aerosol production line or supplied with a labelling machine, making decorating labels an almost invisible extension of the production process, and can be adjusted to suit any size of can.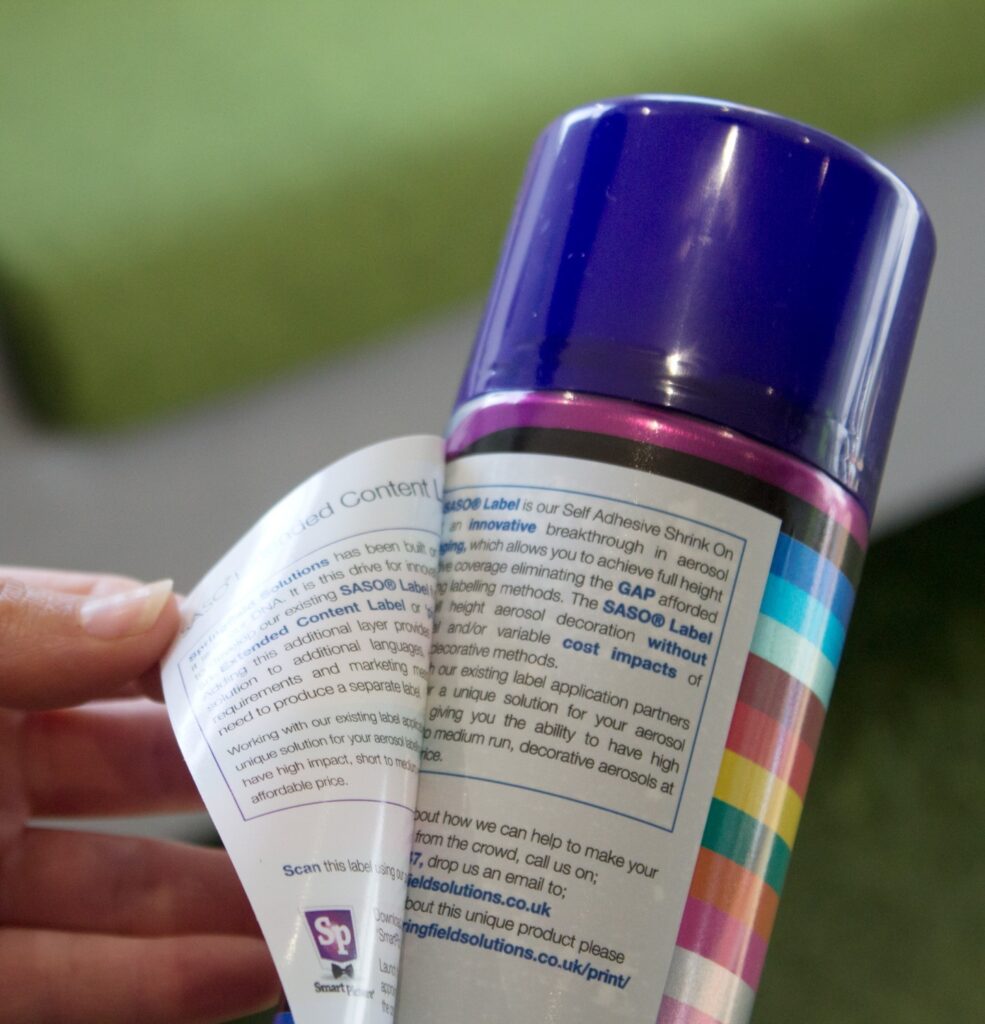 What Are The Benefits of SASO®?
This is where it gets really interesting! Underpinning SASO® is digital print and Springfield Solutions has been a market leader in digital almost since its inception.
We invested in our first digital press in 1996, long before the rest of the industry even considered the value of digital. As a result, we've spent more than 20 years refining and innovating in this field and pushing what is achievable with it.
Over that time, we've fully realised the benefits of digital and so have our clients. These include:
No Minimum Order Quantities (MOQs). Unlike Flexo or Litho, digital can print as many or as few labels as you need, meaning you don't have to pay for excessive numbers of cans to be printed.
More efficient press set-up times. Digital printing stores artwork files digitally, meaning printing plates don't have to be made up to print the order, making press set up times far more efficient.
Easy re-orders. Because there are no printing plates, re-ordering is a much easier and quicker process. Jobs are not locked into excessive lead times as they can be with traditional printing.
Less waste. Digital allows you to order the exact number of units you need, meaning you don't have lots of labels or cans in storage which you've paid for, but might never use.
Less storage capacity. Printing directly on to cans means those cans have to be stored somewhere until they can be used. With SASO®, the labels can be applied as the last part of the process, meaning the cans leave the factory at this point. This hugely reduces the storage needs of a business. In fact, one of our paint clients reduced their storage needs so much they were able to take an entire warehouse out of operation, taking a huge cost out of the business.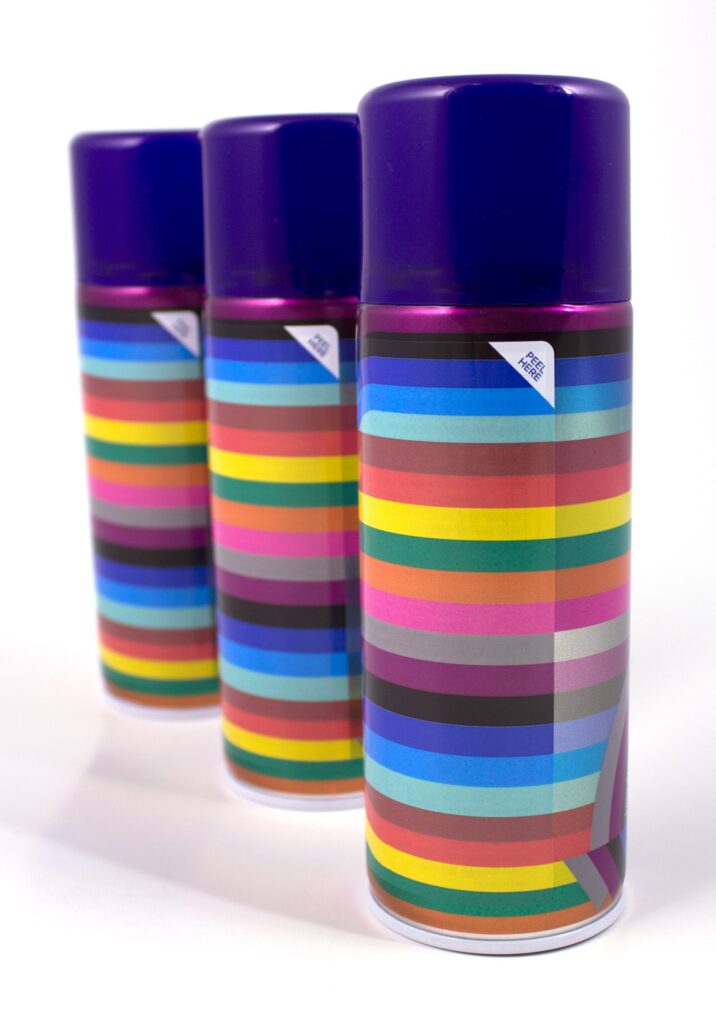 These are just a few benefits of switching to SASO®, and with the seamless finish it gives, we believe the days of traditionally printing directly on to the can are numbered.
As with so many industries, digital is the future. So why not join the digital revolution and find out how SASO® can help revolutionise your business? Those that have, never looked back!