Insights
Seasonal Packaging for the Beers, Wines & Spirits Industry
Seasonal Packaging is an increasing trend in the Beers, Wines and Spirits industry. This is because drinks brands often create limited edition products and flavours for certain events and seasons, such as Christmas or Summer.
Seasonal packaging of products may include extra gifts such as glasses or merchandise, whereas summer products may feature a flavour of a seasonal ingredient such as summer berries. Regardless of the occasion, seasonal product packaging is a great marketing tool to attract consumers and drive sales during that season.
So, what is seasonal packaging, and how can you use it for your brand?
What is seasonal packaging?
Seasonal labels are an interesting way for brands to create campaigns and have fun with their products and consumers. Not exclusive to one time of year, seasonal product packaging can be utilised throughout the year to push certain products towards the forefront of consumer attention.
By creating a product with seasonal touches to the packaging, you create a limited product that has rarity to consumers. This sense of exclusivity will increase interest in your product, as well as the deluxe limited packaging.
How can you use seasonal packaging?
Seasonal Packaging Design
By creating a Seasonal Packaging Design, consumers will be attracted to try out your 'limited-edition' products. Whether you're updating your current design with a seasonal touch or creating an entirely new product for the season, entice consumers with exciting product packaging all-year-round!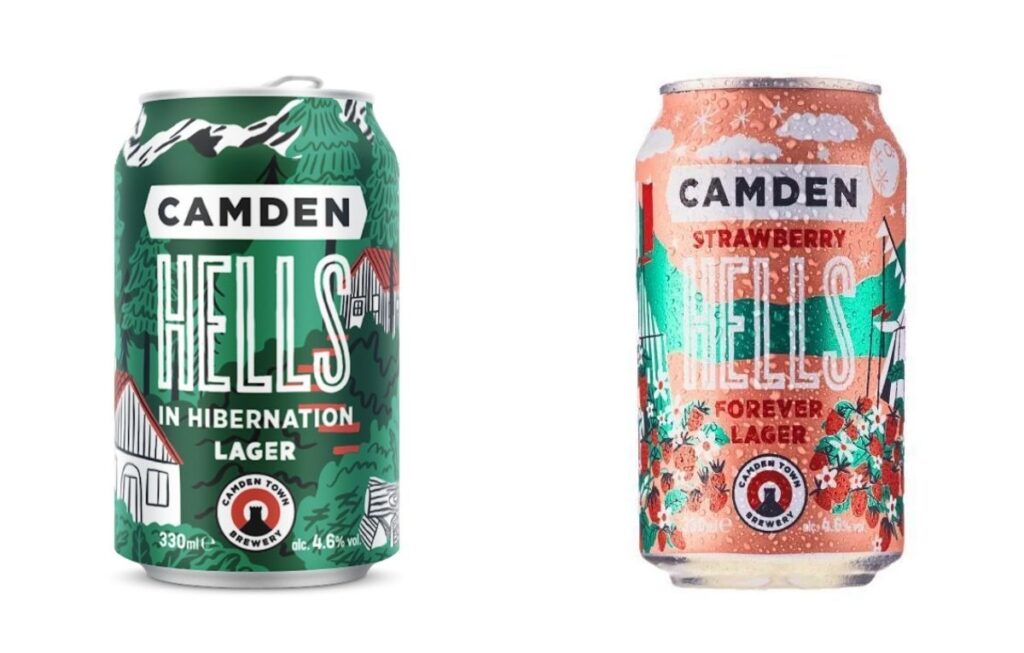 This can be seen in the example above, with Camden Brewery's seasonal product offerings with their winter beer, Camden Hells In Hibernation (left) and their summer beer, Camden Hells Strawberry Forever (right). The designs on these products make subtle hints to the season with hillside settings and strawberry fields respectively.
Your packaging design can be given a seasonal touch in many ways to draw in consumers! For example, by creating a Christmas themed design for a limited-edition seasonal product, a bold pop of colour for a summer flavour or even by allowing consumers to customise the packaging design themselves!
It is important to identify dates throughout the year for your brand to create seasonal products and packaging. This may depend on seasonal events such as Christmas and Halloween, or seasonal ingredients such as fruit flavours for summer and spiced flavours for winter.
Core Products, Seasonal Icons
Brands may opt to add seasonal iconography to their core products to create a limited packaging design, such as snowflakes for the winter or falling leaves for autumn! This allows your packaging to remain on shelves for a longer period than holiday-specific icons such as Santa or Pumpkins, reducing waste of product.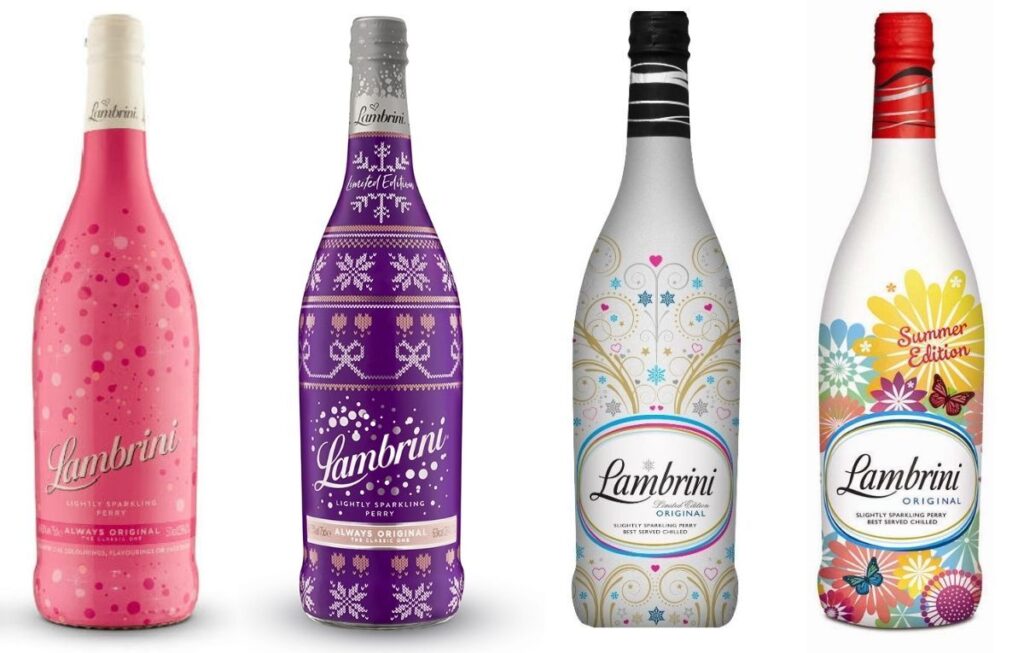 This can be seen above in Lambrini's seasonal packaging. Across each design be it for Valentine's Day, Summer or Winter, the same 'Original' flavoured product remains. Allowing consumers to enjoy the same product while celebrating seasonal events.
Limited Products, Limited Packaging
Another option for seasonal packaging is that which is created for limited edition products. This is common in the Beers, Wines and Spirits industry, as seasonal ingredients often determine what drinks are in production!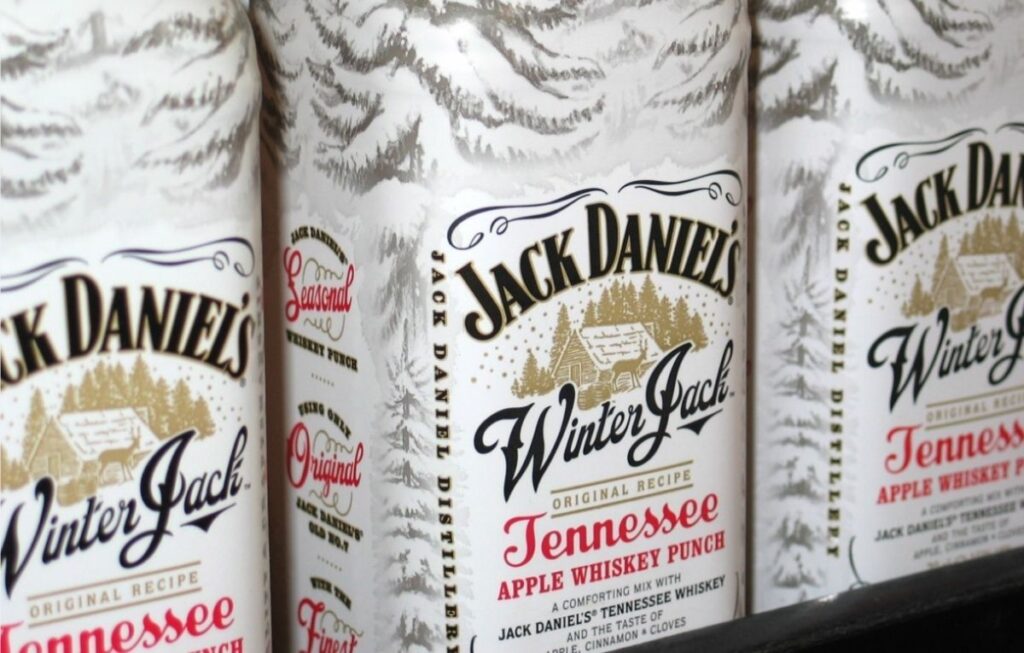 This can be seen in the above example, where Jack Daniels produced an alternate flavour appropriate for the winter season. This new limited-edition flavour was then also matched with a limited edition, seasonal packaging design featuring winter imagery.
It is important to consider what will attract your audience the most when planning out your seasonal products.
Once you have identified your seasonal flavours and product, it is time to work on the designs and create something that will stand out on the shelf!
How is seasonal packaging created?
Seasonal packaging is made possible using Digital processes. By using Digital Packaging Services, your brand can quickly turn around new high-quality product packaging thanks to fast lead times and no minimum order quantities.
Digital Print delivers a range of benefits to brands who wish to alternate their packaging throughout the year for new products or campaigns with seasonal labels.
As our printing services are 100% digital, Springfield Solutions is able to provide a flexible and efficient service to create appealing packaging for global brands. Digital print requires zero minimum order quantities, which means no over-production and the flexibility of both long and short runs.
Some of the benefits of digital print include;
No MOQs.
No tooling costs.
Maximum 5-day lead times.
Personalisation capabilities using variable data printing.
To discover how digital print can enhance your seasonal packaging, get in touch!