Insights
Staying COVID-19 Secure in 2021
In order to progress with our very own Springfield's 'Roadmap Out of Lockdown' we have been implementing some new measures to ensure our staff stay COVID-19 Secure and safe throughout.
Last year, we detailed how we are staying COVID-19 secure throughout the national lockdowns as our on-site staff members produced essential labels for a number of key organisations.
These measures include;
Putting together a risk assessment for our staff.
Maintaining all cleaning and hygiene procedures in line with government guidance.
Where possible, staff transitioning to working from home.
Social-distancing and the use of masks.
Adjustments to shared spaces within the building, such as kitchens and toilets.
Thermal imaging cameras to check staff & visitor temperatures.
Increase ventilation through the installation of natural air flow fans.
Now, we are moving to the next stage of our roadmap, in line with the government's guidelines.
At Springfield, we have implemented both at-home and on-site testing to ensure the safety of our staff and allow our business to proceed with easing workplace restrictions.
At present, all employees attending the workplace are required to carry out a lateral flow test at home using the workplace rapid COVID-19 tests.
We spoke to our Enabling Services Manager, Dave Medcalf, to find out more about the testing programme.
How does this testing programme help us operate safely? 
"In order to support the easing of COVID workplace restrictions, Home COVID testing of all staff entering the workplace gives us the confidence that we are minimising the potential of the virus being present here at any given time."
Have you faced any challenges? 
"We have been able to clearly communicate to all staff about the regularity, method, and result logging requirements. All information has been specified in detail and continues to be repeated to ensure familiarity. Replenishment of kits when needed is being co-ordinated through Departmental Management to ensure availability for use."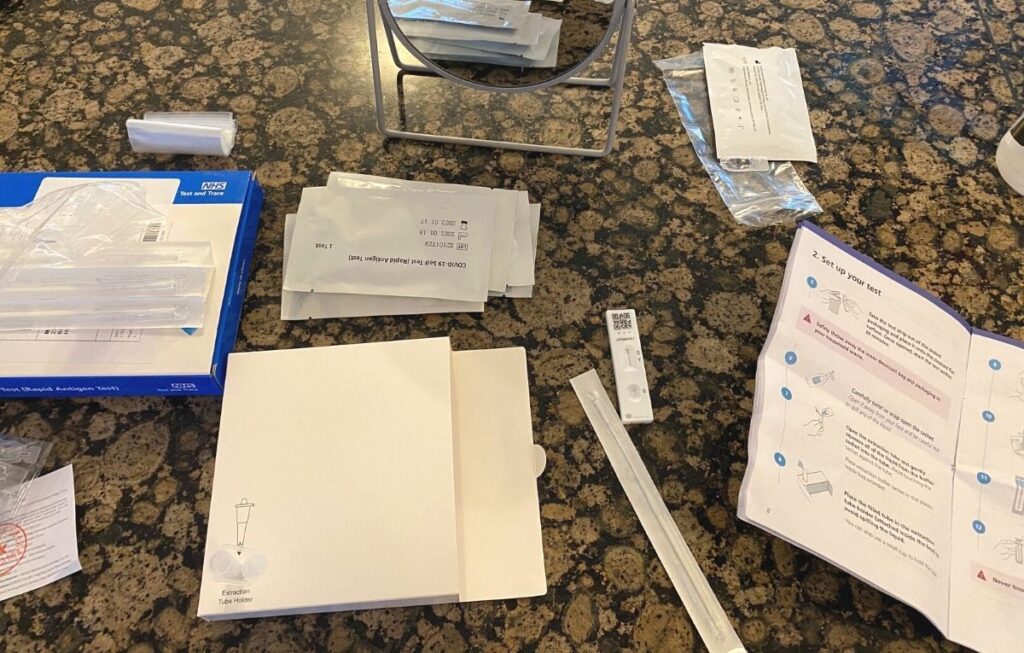 What is the main importance of keeping staff as safe and healthy as possible? 
"The Company approach to COVID has had two main objectives from day one. Priorities being protecting the health of our staff, closely linked with ensuring that we maintain a healthy business. Current implementation of COVID Home testing is a key factor in achieving these objectives at this point in time."
These rapid workplace tests allow us to not only ease out of restrictions in a safe and cautious way, but they also allow us greater flexibility in working patterns for our staff.
Our current testing programme will continue as we proceed through the steps of our internal roadmap out of restrictions. Within our internal roadmap, at defined intervals, restrictions are gradually being eased providing there is no evidence of a negative impact from these restrictions being eased.
This includes a gradual 'bubble' relaxation for staff across different areas and roles within the business. Our current 'bubble' restrictions limit the movement of staff round the building to ensure that if any issues were to arise, they could be restricted to that area.
We are also only permitting visitors to the site if there is a valid reason for them to attend. On top of this, visitors are only allowed to attend if they comply with our COVID visitors statement. This ensures that any visitors have not been in contact with a known COVID case or have travelled to anywhere with adverse restrictions.
The final endpoint will be all current restrictions being lifted, however the need to practice good hygiene for example cleaning of workstations and the use of hand sanitiser will remain.
It remains our priority to ensure the safety of our staff while also maintaining our production process to supply essential labels to our customers during these unusual times.
To find out more about our services, visit our designated brand management and digital label printing pages and start your digital packaging journey today!