Case Studies
Digital Print Gives Confidence to Big Willy Distillery
Big Willy Distillery were on the lookout for a label supplier whom they could trust to create high-quality packaging that would best showcase their exciting new spirit line across a range of sizes and sorts.
Who is Big Willy Distillery?
Big Willy Distillery is the brainchild of Sally May, who's dream was to distil her own spirits in the memory of a local icon William Bradley – the "Yorkshire Giant", who's hometown was Market Weighton.
Sally is a professionally trained Florist who has displayed her designs at the Chelsea Flower Show and won countless competitions during her career. Sally decided in 2017 to rebrand her Floristry business to 'Flower Merchant' with the desire to incorporate the best Yorkshire spirits, wines and beers.  Along with acquiring alcohol from other local brands to sell, Sally also wanted to promote the local attraction of the town by bringing out her own spirits in memory of William Bradley with 'Big Willy Spirits'.
The goal of Big Willy Distillery is to celebrate tenacity and success, a brand value that came about after researching William Bradley's story. John and Sally wanted to create an alcohol brand which is sassy, naughty and daring – to make people aware that they should never sit back and be a spectator, instead they should champion that they are part of the show, and they should embrace life. Which is how the brand's strapline of 'Stand Tall & Proud' came about.
What were the brand looking for?
As Big Willy Distillery are new to the industry, it was vital that they sought out a trusted supplier for their packaging from the beginning. After speaking to fellow local businesses whose products are stocked in the Flower Merchant such as Spirit of Garstang, they were highly recommended to come to Springfield Solutions for their Spirits packaging. It soon became apparent when building their brand that Big Willy Distillery had found their packaging solution, a digital one, from Springfield Solutions.
"To create a successful alcohol brand in such a competitive market, you need a superb graphics guy and a professional and trusted digital packaging solutions company. Needless to say, we found both. We found Springfield Solution's approach was professional and our graphics guru stated that he also found working with them effortless." Lord J F Ruddie and Sally May, Big Willy Distillery.
Why Digital Print?
Big Willy Distillery produce spirits across 3 assorted sizes 70cl, 20cl and 5cl. Therefore, the business required a solution that would easily allow them to order varying sizes across their 3 designs for the vodka, rum, and gin.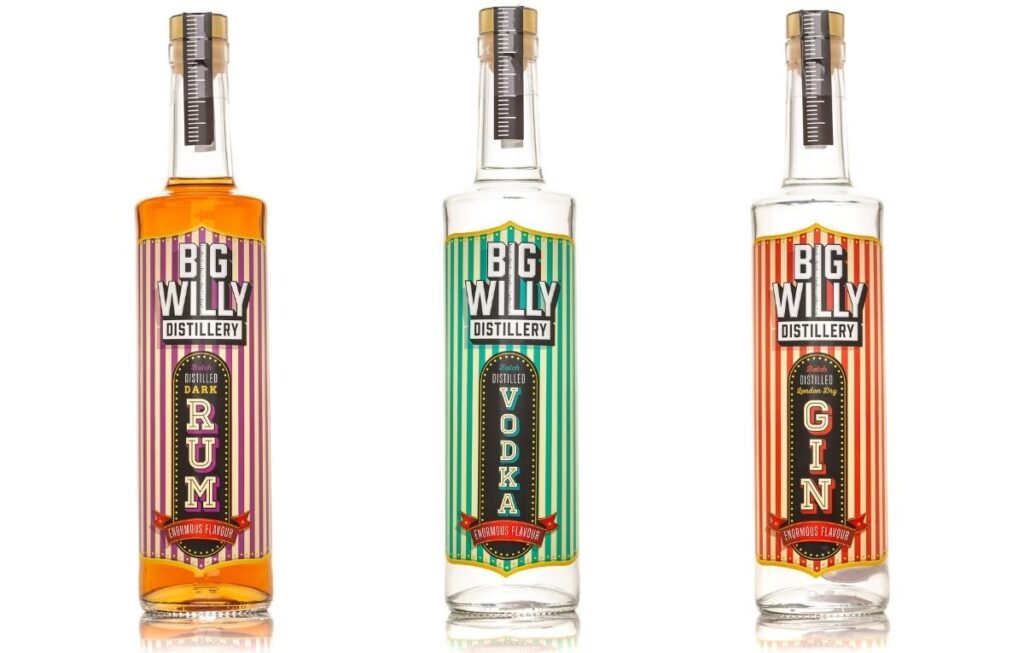 Digital print allows the distillery to order multiple label sorts to their required quantities, making it a versatile option for an ever-growing brand thanks to zero MOQs (minimum order quantities).
Springfield's digital printing methods enable Big Willy Distillery to be confident of a hassle-free, fast service thanks to quick lead times. At Springfield Solutions, we pride ourselves on having lead times of a maximum of 5-days from approval of artwork. This allows brands to grow and develop quickly by having the ability to respond to ever-changing industry trends.
"Springfield provided a cost-effective solution to our specification and the service was quick and reliable. Thank you to the team, you made the launch of our Spirits possible!" Lord J F Ruddie and Sally May, Big Willy Distillery.
To discover how digital print can benefit your brand, get in touch to discuss your project and requirements today!