Case Studies
Digitally Printed Neutraceutical Packaging Rebrand – Biocare
There are frequent regulation changes in the Health & Wellbeing industry, and brands often have an extensive range of products to consider when designing and printing packaging.
These are just some of the factors that make digital packaging solutions a perfect fit for this sector, and market leader BioCare quickly experienced the related benefits.
Who are BioCare?
BioCare is a Global Professional Supplement Specialist with over 30 years of experience supplying products to customers worldwide. The brand is a market leader in researching and developing the most effective solutions to meet customers' needs and offering the highest levels of advice, support, and education.
BioCare are focussed on Quality, Innovation and Education. They use the best possible ingredients to provide clinically effective solutions while educating and supporting both practitioners and retailers.
Our work with BioCare
Nutraceutical Packaging Rebrand
We have worked with BioCare for several years to develop their packaging design and provide Digital Solutions for their product labels. In our previous Case Study back in 2019, we showcased how we provided Digital Solutions with versatility and speed to produce custom labels for the brand with no MOQ's.
More recently, we worked alongside BioCare to transform and upgrade their packaging for their latest rebrand. Assisting the brand to gradually changeover their branding and packaging as their new products came to market.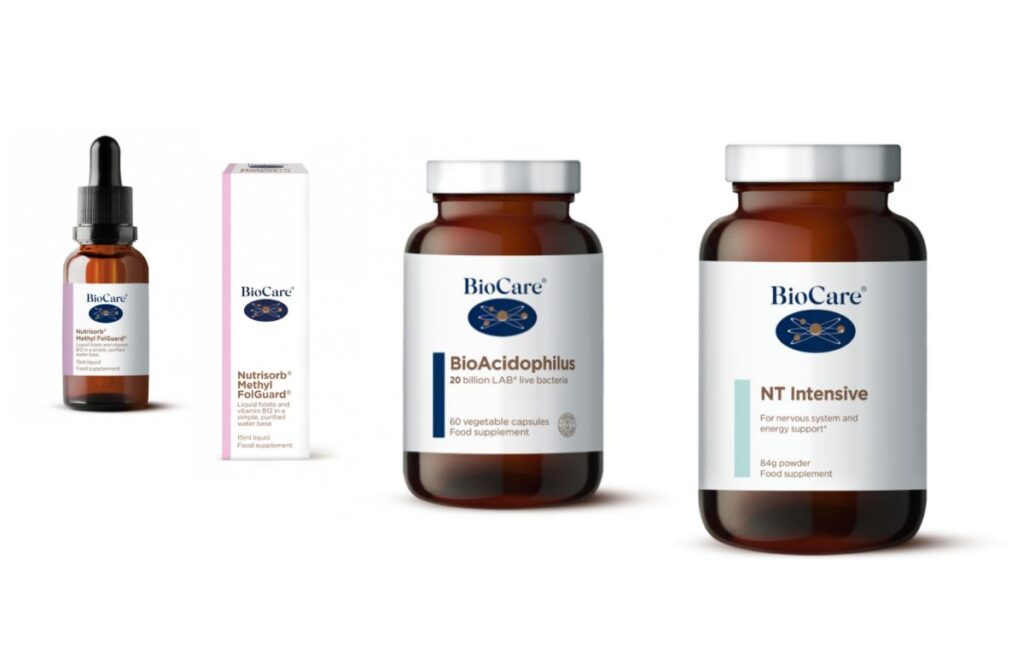 Our Brand Management team created a colour coded design for their labels and cartons to differentiate between each product's purpose and benefits to the consumer.
This colour coded packaging design creates a clear set of product categories within the brand's broader product catalogue. Therefore, it makes it easier for consumers to identify the product they require quickly.
Digitally Printed Labels
Alongside the packaging design rebrand, we also digitally print BioCare's labels, allowing the Health & Wellbeing brand to benefit from our digital print methods across the board. By producing their packaging artwork and product labels, we can ensure consistency across their product range. In addition, ensuring that the designs are correctly set up to be best produced using our digital print processes.
Due to the nature of BioCare's business and products, our 100% Digital Print Facility is a great fit. Legislation and product regulations are everchanging within the Health & Wellbeing industry; therefore, a Digital Label Printer with no MOQ's and high flexibility allows changes between labels to be made quickly and efficiently. This enables BioCare to order the labels that they require without the need for over-production or waste.
Another benefit of Digital Label Printing is our speed to market. Our maximum 5-day lead time means that any changes to product labels can be made quickly, and new labels can be on products and in hand in a short space of time.
Our team also liaised with BioCare to discuss new options for their packaging, as they wished to switch from plastic containers to glass containers to be more eco-friendly.
If you are a Health & Wellbeing brand and think you would benefit from our Digital Printing Solutions, get in touch!