Case Studies
Elevating E-Liquid Packaging with Flavour-Tech
We work with E-Liquid company, Flavour-Tech, to produce digitally printed labels and boxes for their vape products. This includes embellished, premium packaging for new product launches to create excitement for their audience and add value to their product to increase sales.
Who is Flavour-Tech?
Established in 2016, Flavour-Tech UK is a family-owned company that specialises in the development and manufacture of E-Liquids under the brand "Wick Addiction" and other popular OEM E-Liquid brands.
The business was created with the ambition to keep consistency and quality at its best. Working in harmony with their sister company, The Emporium, who is the retail arm within the corporation, they currently serve Hull and the East Riding via several vape stores.
​Flavour-Tech has the capacity to produce in excess of 4 million bottles of fully compliant E-Liquid per year. All of which are manufactured using state-of-the-art production equipment within an ISO-14644-7 cleanroom environment.
Work with Springfield
We have worked with Flavour-Tech for approximately 4 months to produce boxes and labels for their new E-Liquid product launch and rebrand. This included 5 label sorts for the new range and a sample pack carton.
Flavour-Tech came to Springfield wishing to take their packaging to the next level. They were looking for a digital packaging solution that would give their product the striking shelf appeal that it deserves. Showcasing the product quality to their audience and in turn, increasing sales.
Most of Flavour-Tech's current product labels are printed in-house. However, during the rebranding process and further new product launches, they wanted to improve and impress.
To create an exciting launch for their new 'All Day Long' range of products, the business aimed to further outsource elements of the packaging to add luxury finishes that they could not achieve in-house.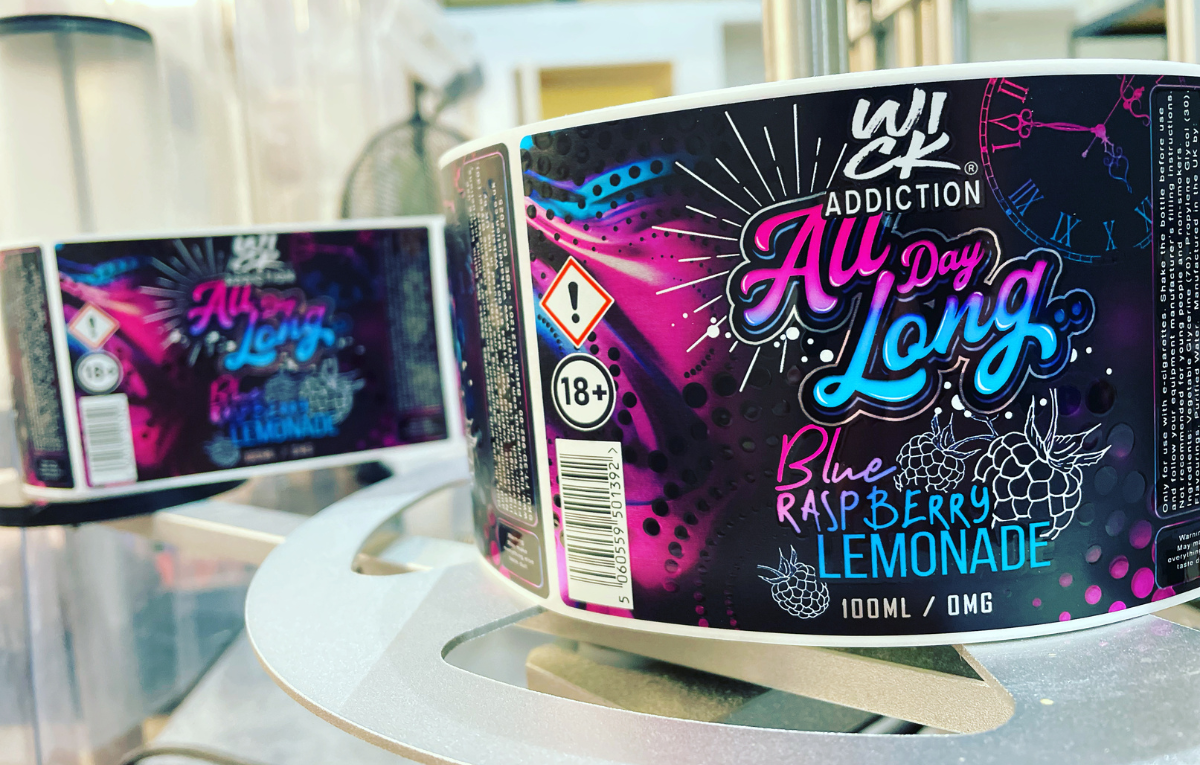 This included spot varnishing, foiling and soft-touch finishes. The labels for the All Day Long range are printed on Silver PP with spot varnishes that enhance the packaging design to make the labels pop on shelf.
These embellishments are digitally printed using our innovative technology. Which makes luxury packaging much more accessible with zero MOQs and increased flexibility.
"We are extremely happy with the service we have received from Springfield Solutions and in-turn, aim to carry on this relationship for many years to come." Says Kayleigh Stephenson, Graphic Designer at Flavour-Tech.
To discover more about our premium label embellishments, click here.