Case Studies
Hand Soap Labels That Make a Change With ChooseWell
ChooseWell produces 'ordinary products with extraordinary purpose'. Their hand soaps strive to make a difference by donating money from every purchase to support three main charities. Those charities support the UN's Sustainable Development Goals in Water Poverty, Climate Change and Homelessness in the UK.
Made with 95% natural ingredients, ChooseWell's product range is cruelty-free and contains no SLS or Parabens. Their mission is to help the world transition towards a more sustainable future, empowering their customers to make the world a better place with each purchase.
When sourcing for their hand soap labels, ChooseWell were looking for a supplier who could create high-quality labels with a luxury finish to match their market positioning. The business was specifically looking to create a highly decorative label in order to showcase their product with premium packaging.
It was important to ChooseWell that this was also a cost-effective solution, alongside a luxury, premium end-result. They were looking for a supplier that could provide short-run labels for their four different soap fragrances, plus a shorter run for their 1 litre refill pouches, which are being test marketed from their product launch.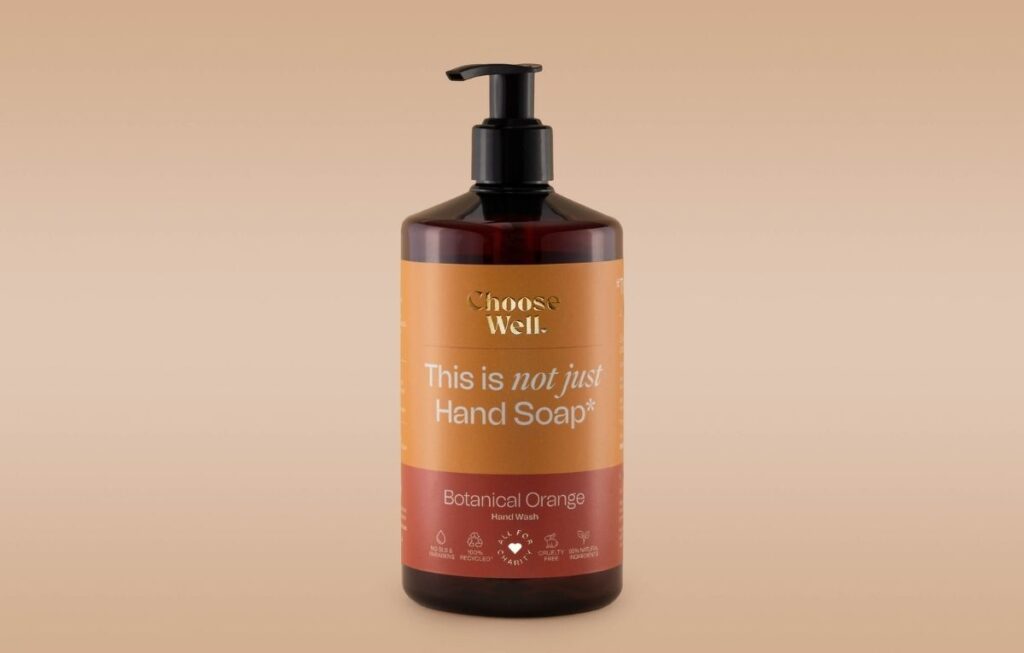 Our 100% digital print facility, alongside our revolutionary digital label embellishments made a perfect fit for ChooseWell's requirements. Firstly, thanks to our 100% digital processes, we were able to produce cost-effective, short-run labels for the launch of their range of hand soaps. Our digital label embellishments added a premium look & feel to the labels by using gold foiling and spot varnishes to accentuate elements of the product packaging design.
Springfield Solutions and ChooseWell have worked together over the past 3 months to design, prototype and create a bespoke, high-quality label to support the liquid hand soap range launch. Funding projects that work to provide clean, safe drinking water for school children in developing countries, supporting tree-planting initiatives to counteract the global effects of climate change and tackle homelessness in the UK.
Founder, Stewart Roussel, said "The high level of service combined with the flexibility of short print runs, has meant that working with Springfield Solutions has helped the launch of the new social enterprise run very smoothly."
Stewart also noted, "The other important factor of success in ChooseWell's partnership with Springfield is the three-way relationship between the client, the label supplier and the contract manufacturer. It's a team effort to make sure everything works together and runs smoothly, not just in terms of the look and feel of the brand, but also in terms of the logistics of working with the contract manufacturer. Springfield Solutions have an excellent reputation in that respect for delivering a fast, effective, and personalized service, which is competitively priced."
If you require an efficient, cost-effective digital solution for your premium packaging, get in touch!