Case Studies
Luxury Rum Launch with Taplin & Mageean
In 2021, we successfully helped premium spirits brand Taplin & Mageean launch their new Spiced Rum with premium embellished labels. The rum recently won Silver at the World Rum Awards for Label Design! 
Who is Taplin & Mageean? 
Taplin & Mageean Spirit Company launched in 2018. With a background working in hotels, Co-Founder Chris Taplin was aware of the explosion in popularity of Gin in the previous 10 years and was on a quest to find out more.  
After months of planning, co-founders Chris & Barry started their new company and opened the distillery's doors in August 2018 with four recipes of Gin ready to launch.  
Over the next few years, they concentrated on building the brand and equipping the distillery to meet modern production standards. The building is part of a 200-year-old railway building on the Wensleydale Railway, and they even run regular 'Gin Train' tasting events.  
The Launch of the Wensleydale Spiced Rum 
In January 2021, the Taplin & Mageean team was aware of a growing trend toward other spirits- particularly Spiced Rum.  
The team began to develop new recipe ideas, and after several trials, they had their product just how they wanted it. All that was left to source before launch was the packaging! So, they decided on the bottle and closures and began designing the label.  
An opportune meeting with Michael Preston, a member of our Business Development Team at Springfield Solutions, was the key to the next stage in the process.  
The Labels 
Michael worked with Taplin & Mageean's design team to finalise the layout, offering suggestions as to how luxury finishes could be achieved using our Digital Label Embellishments to enhance the overall appearance of the bottle and make it stand out from a crowded bar shelf.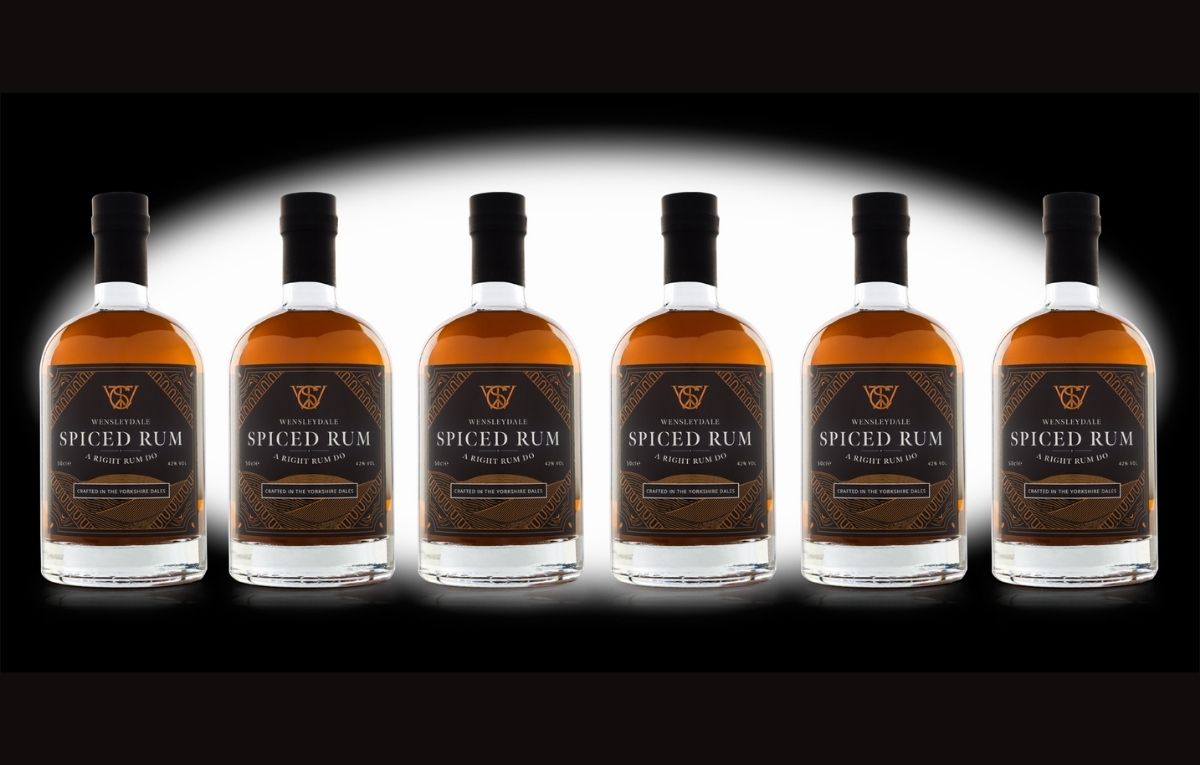 The label was expertly created by our team at Springfield Solutions, and in July 2021, Taplin & Mageean launched Wensleydale Spiced Rum at the Yorkshire Show.  
Although delighted with the initial print run, Michael felt that further improvements could be made for the second print run.  
Working alongside Aimee Holmes, a member of our Print Admin team, Taplin & Mageean's designers decided to go for a wraparound label with a textured finish.  
Using our digital label embellishments, we have created a fishing net effect with varnish, creating a unique label. This is paired with the premium silver finish of the substrate, which is then layered with magenta and yellow to create a gold label.  
This effective method gives the bottle of rum a high-quality feel, and the fishing net effect achieved with the embellishment choice serves as a nod towards the nautical reputation of rum! 
"Overall, we were delighted with the service offered from Springfield, and we can't wait for our next product launch to get them involved again. Their expertise and knowledge are second to none." Chris Taplin, Co-Founder of Taplin & Mageean Spirit Co. 
To discover how digital print can benefit your brand, get in touch to discuss your project and requirements today!