Case Studies
Mock>it – You'd be barking mad not to!
With a powerful service like mock>it to help brands perfect their packaging, clever brand managers know they would be barking mad not to take advantage of it.
That was certainly the case with a company we recently worked with, which wanted to create engaging packaging that communicated their ingenuous business idea to a niche target audience.
Taking inspiration from snack food innovators Graze, Bark Bites Dog Treats sends a range of organic, hypoallergenic treats directly to dog owners on a subscription basis.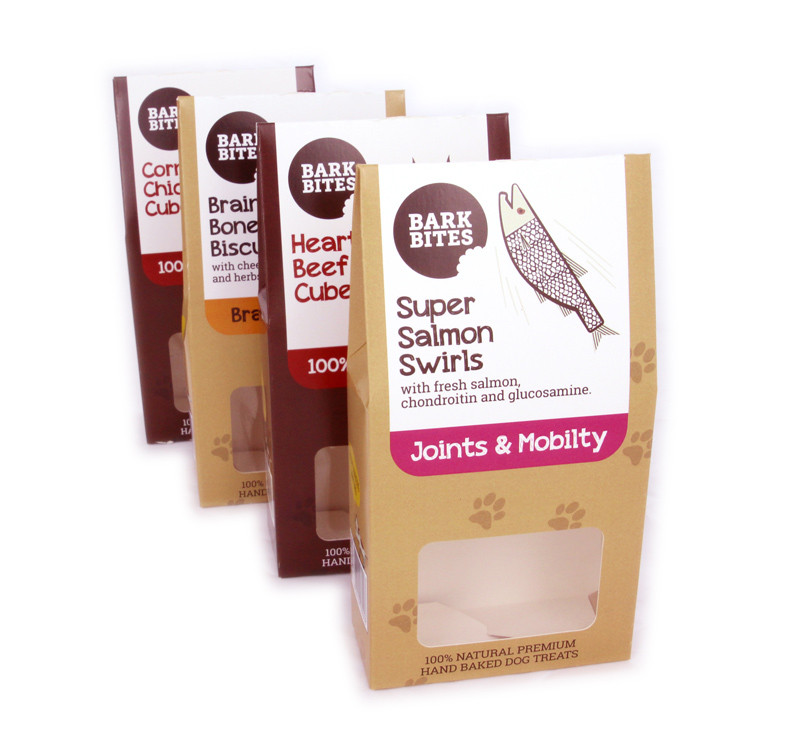 As the company uses sturdy cardboard boxes to keep the treats safe and fresh in transit, they turned to mock>it to ensure they created packaging that fulfilled their functional needs, while at the same time communicating the company's brand values and obvious love for dogs.
Underpinned by digital printing, mock>it enables brand owners and managers to create prototype packaging quickly and cost effectively, to carry out market research, tweak and perfect their branding.
Bark Bites Dog Treats had a total of 11 variants of their packaging, each of which needed prototypes creating to enable the company to assess and amend the design.
The artwork was sent to us and it is here that digital print really comes into its own. Because artwork is printed from digital files, rather than from the archaic printing plates needed by litho and flexo printing, we quickly got to work creating the mocked-up cartons.
Digital print has another huge benefit over its analogue forefathers – the ability to carry out cost effective short runs. Mock>it is only viable because of this quality. It means we can print any number of cartons, from one up to multiple thousands. That enables companies to create prototypes, assess them, carry out market research, analyse them in comparison with competitors', tweak and then reprint. This is not something that is achievable with anything but digital.
Within two days we had printed, cut and assembled Bark Bites Dog Treats' prototype cartons, and they looked fantastic. It's yet another example of how mock>it is helping some of the UK's most innovative brands create the perfect packaging before launching their product to market, or carry out a successful restaging of a much-loved brand in need of modernisation.
Without mock>it Bark Bite Dog Treats' packaging could have ended up a dog's dinner! Instead, with Springfield Solutions on the case and the power of our brand management and digital print divisions, the client was delighted with the result … some might say like a dog with two tails!
To find out more about mock>it contact us here or call 01482 484700.