Case Studies
Digitally Personalised Gin Labels for Murphy's Gin
We work with Murphy's Gin to produce premium labels for their spirits. Including varying flavours and sizes of their Gin and Vodka products. 
Who is Murphy's Gin?
Murphy's Gin comes from modest beginnings. Initially, the personal passion of one brother with a background in chemistry, a wife who loves gin and a tiny 2 litre copper still.  
The company have now grown into a small batch, artisanal distillery supplying exceptional products to some of the most highly rated restaurants and bars in the Liverpool area. 
Their products include premium Gin and Vodka as well as unique Gin flavours such as Cherry, Pomegranate & Kaffir Lime and Orange & Passionfruit.  
Working with Springfield Solutions
Murphy's Gin require small volume orders for their batches of distilled gins in varying sizes and flavours.  
This made digital label printing a perfect fit! At Springfield Solutions, our digital method of label printing can facilitate short run orders with multiple label sorts. This is because plates are not required, therefore, with digital label printing there are no expensive tooling costs and zero MOQs.  
Digital print also provides short lead times. With labels printed by Springfield being delivered in a maximum of 5-days from approval of artwork. 
This allows Murphy's Gin to get their products to their retailers quickly, as well as provide unique products for their customers.  
Personalised Gin Labels
We produced personalised Gin labels for Murphy's Gin, fulfilling their customer's requirements for a custom touch to the digitally printed gin packaging. 
The personalised labels were required for a birthday event held at the company's bar. Adding customer names onto various flavours of their gin across 3 sorts.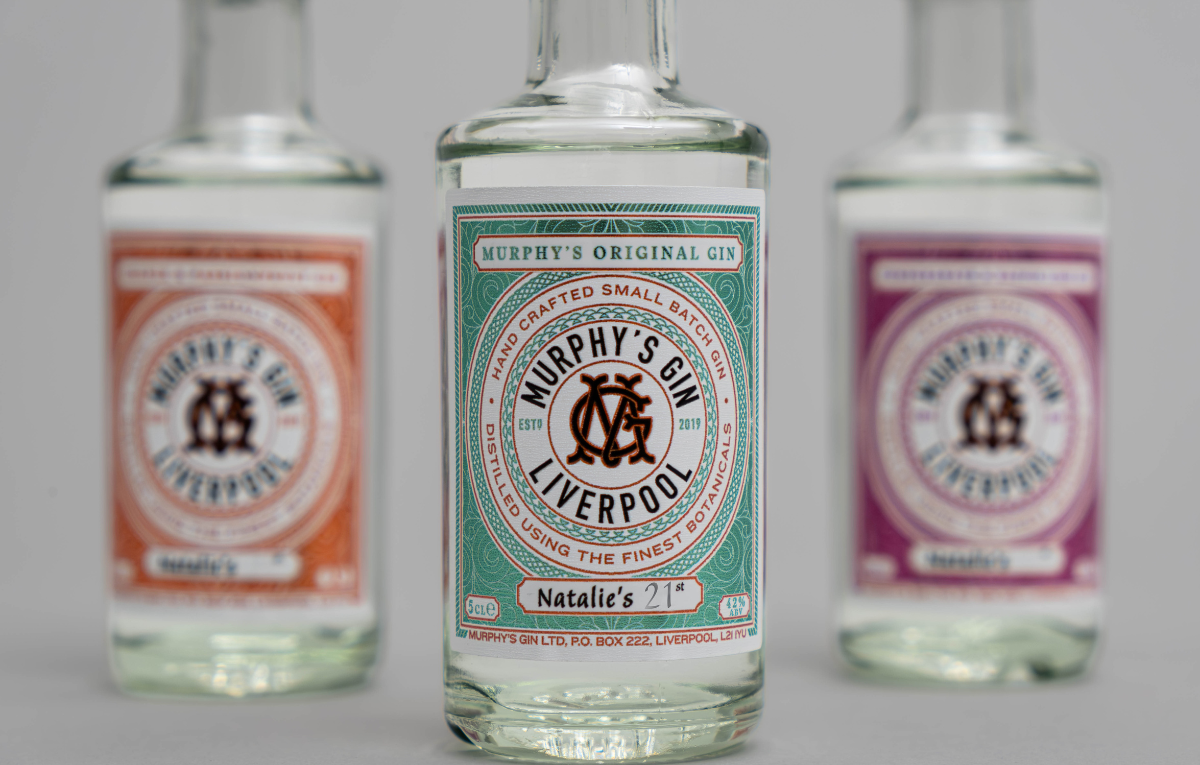 This order was made possible thanks to the agility of digital label printing. 
Variable data enables each label to be customised and printed digitally – with no plate or tooling requirements.  
These labels are printed on a silver substrate to create a luxury metallic effect and enhance the colour of each label, with additional digital spot varnishes.  
This additional luxury brought the packaging to life to create a memorable piece of personalised packaging for a special occasion! 
"The service from Springfield Solutions has been incredible. The team are always on hand to assist with any project we come to them with. Springfield's digital labels help us keep our customers happy and excited about our products!" Said Mark at Murphy's Gin. 
Are you looking for digital packaging solutions to enhance your products? Get in touch with our team for a tailored solution for your brand's needs.