Case Studies
Poseidon Spirits Make a Splash in the Market with Digitally Embellished Labels
We print digitally embellished labels for Poseidon Spirits, designed to make a strong impact with their diving-inspired alcoholic spirit launches.  
Meet The Brand!
Poseidon Spirits owners, Dan and Darren, have been in the offshore diving industry for over 20 years. Recently, the pair decided to venture into the world of alcoholic spirit creation and bottling – with inspiration from their diving background. 
Dan and Darren started Poseidon Spirits with the aim of building a collection of spirits which stand out from the products already on the market.  
Their diving heritage was the founder's inspiration to create products that appeal not only those within the diving industry, but to the wider audience who are interested in a strong brand story and concept.  
The company's first product, Brass Hat Diver's Spiced Rum, has so far been received well by customers with a successful launch. The team have hopes to develop their brand further in the future with variations of their first product as well as ultimately branching out into other alcoholic spirit drinks. 
Work With Springfield
Poseidon Spirits came to Springfield Solutions with a simple label design initially. The business' aim was to improve their packaging so that their product would stand out in a crowded spirits market. Making a strong first impression with their initial launch.  
Our studio team took onboard the brand's vision and requirements. Using our in-depth knowledge and expertise to enhance the label and expand the product's potential.  
A wide range of substrate and embellishment options were provided to the team at Poseidon Spirits to ensure that they were happy with the end product as well as being able to bring the design and brand story truly to life.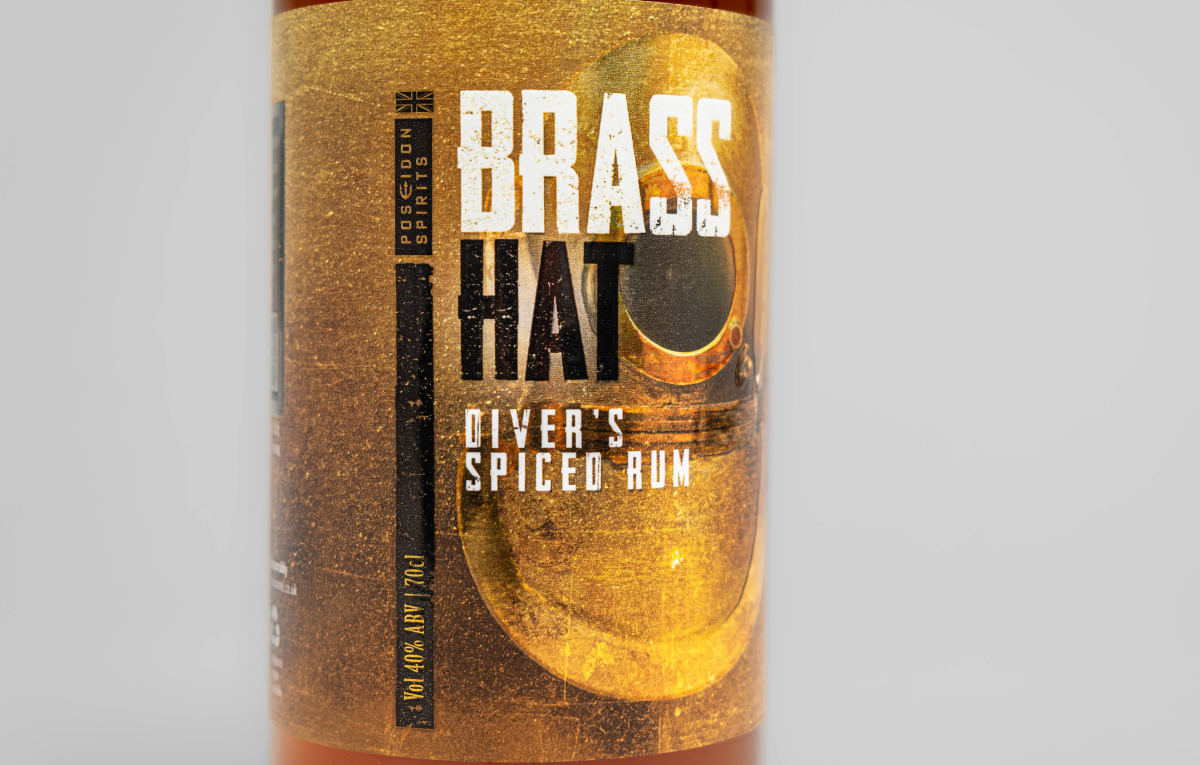 The result was a visually striking label featuring spot varnishes. These embellishments enhance elements of the diver's helmet on the label as well as the brand name. The label is also printed on a silver substrate, which creates beautiful metallic effects on the labels when colours are printed on top! 
As we are a 100% digital printer, our customers benefit from a maximum 5-day lead time from artwork approval. This meant that Poseidon Spirits could get their first product, Brass-Hat Divers Spiced Rum, to market quickly! This was perfect for the business, as their pre-order launch sold out quickly.  
"The service we have received from Springfield Solutions has completely exceeded our expectations. We are thrilled with the finished product and excited for what is yet to come. The team have supported and guided us throughout the process, and we look forward to working with them in the future!" says Darren Ward, Co-Founder of Poseidon Spirits.  
Are you looking for digital packaging to enhance your product launch? Get in touch with our team for a tailored solution for your brand's needs.