Case Studies
SASO® Case Study – Lindal Group
Lindal Group specialises in the design, development, manufacturing and supplying of aerosol dispensing packaging solutions. Their products include actuators, aerosol valves, barrier packs and many other accessories. They are a global leader in the aerosol field and continue to innovate in this market with new concepts and solutions.
The Lindal Group travel the world attending tradeshows and conferences to advertise their solutions to the aerosol industry and beyond. However, like many companies, they have struggled to find a solution for labelling cans in small quantities for promotional purposes.
For the most part, aerosol manufactures have MOQ's that vary from 16000 to around 25000. This left Lindal with an issue as the only solution would have been a standard label which doesn't look very professional. LINDAL wanted a final product that looked like an aerosol you would find on a supermarket shelf.
SASO® is our Self-Adhesive Shrink On-label solution for Aerosol cans. It offers full height; flexible aerosol can decoration that reduces the need for excess stock sat in the warehouse. Why? There is no MOQ's; you can order 1 or 100,000 cans.
The low label MOQ volume was perfect for Lindal as they wanted to showcase the multiple actuator diameters available from their new Mini Engine Platform. LINDAL had 9 different label varieties printed, representing three diameter sizes for each of the Alpha, Beta and Sigma actuator designs, that are available as standard from the Mini Engine Platform.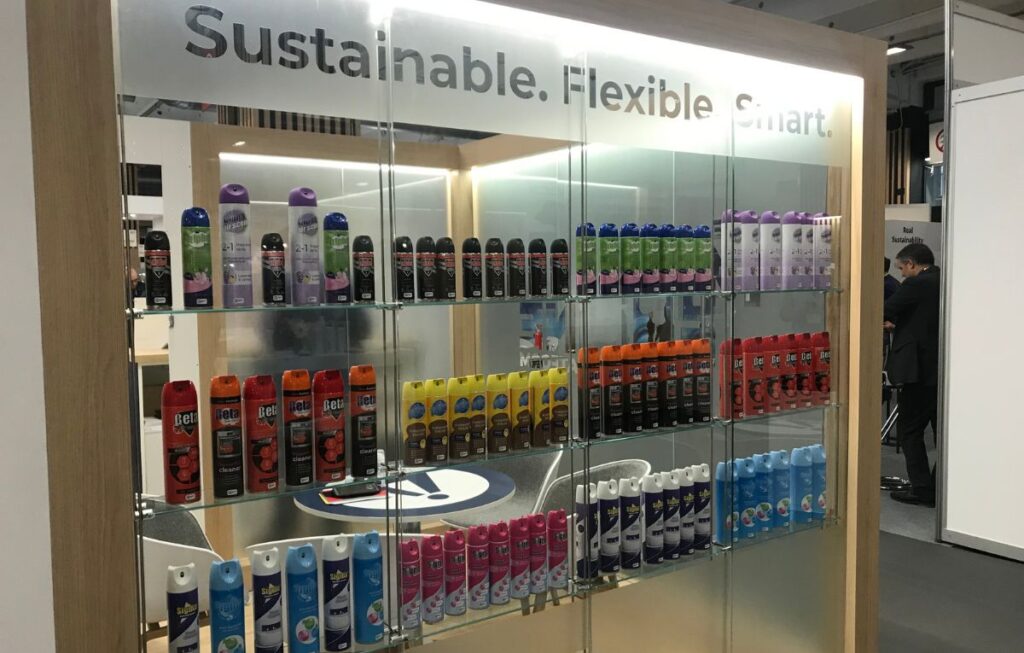 Kashif Choudhry, Group Marketing Manager at LINDAL said: "Overall we were very happy with the service and final products we received from Springfield Solutions. We worked closely with Michael from the initial consultation at the beginning of the project through to delivery of the final product, in time for our deadline. The SASO labels allowed us to clearly demonstrate the capabilities of the new Mini Engine Platform by creating a supermarket shelf effect which allowed customers to visualise what the final product could look like."
We look forward to continuing working with Lindal in the future. If you have an interest in SASO®, contact us here.