Case Studies
Seamless Paint Colour Swatches for Lick
In the Paints & Coatings industry, it is important to present colour accurate packaging to consumers to ensure their satisfaction with your product. Digital processes make the colour matching process efficient and accurate, enabling brands to perfectly portray their products on shelf.
Lick needed to utilise labels to differentiate between colours and sheens on their paint packaging and chose digital methods to ensure high-quality labels with accurate colour matching.
Who are Lick?
Founded by entrepreneurs Lucas London and Sam Bradley, Lick is a UK direct-to-consumer home décor brand that launched the day the UK went into lockdown during the COVID-19 Pandemic in 2020.
The brand specialises in eco-friendly paints, artisanal wallpapers, and decorating supplies. Lick replaces the stresses of the outdated decorating industry with a simplified journey and customer-centric experience, powered by real conversation.
Lick's products are created with the modern lifestyle in mind. From durable and eco-friendly paints, FSC Certified artisanal wallpaper to the high-quality decorating tools and their true-to-colour stick-on samples, all delivered right to the consumer's door. Lick are determined to make it easier to decorate than ever before.
Lick's Packaging Requirements
Lick required colour accurate swatch labels for their paint tins in bespoke sizes. These labels allow the brand to personalise each tin of paint to differentiate between sheen levels and colours on the tins.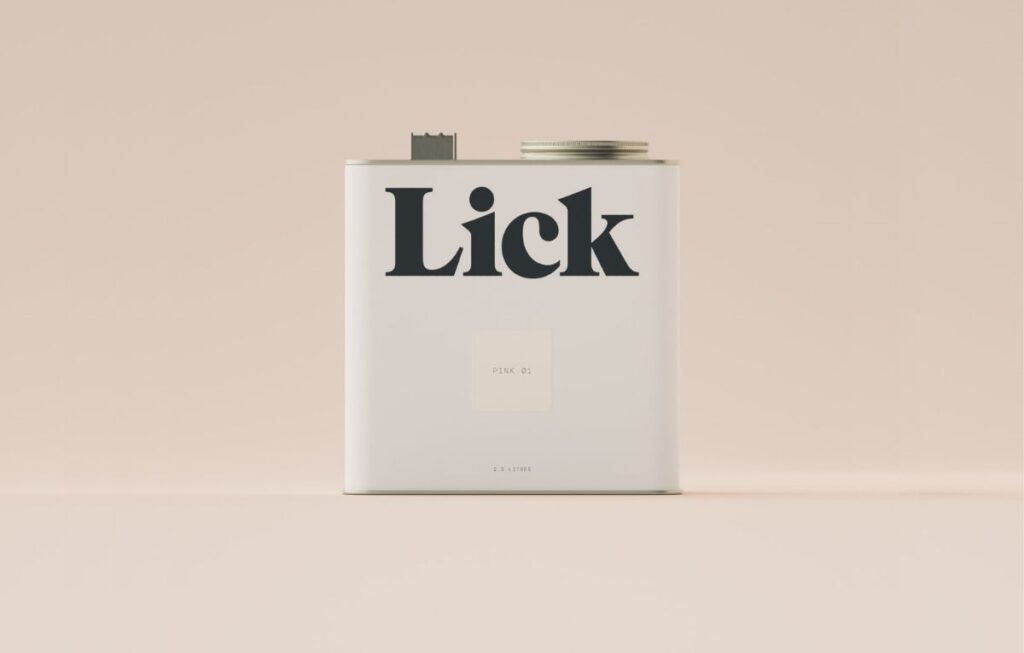 Colour Management
By choosing a digital packaging solution for their requirements from Springfield, Lick were able to achieve seamless colour consistency across their packaging thanks to our efficient colour management processes.
Colour management focusses on the consistent reproduction of colour across all substrates and print processes. This ensures that not only do the colour swatches match the paint that is inside the tin, but the swatches across all of the tins of the same product are also consistent. Providing harmonious colour consistency from drawdown to printed label.
This is an extremely important factor in the packaging process for paint companies as customers expect for the product inside the tin to match that of the swatch on the packaging!
Using our expertise in colour management to produce colour accurate labels to the correct specifications for their tins so that Lick's products appear consistent everywhere that it appears. Allowing the brand's products to come together as a cohesive 'family' of accurately colour matched products.
Digital Label Printing
At Springfield Solutions, we are 100% digital. This means that our labels have zero minimum order quantities, and a fast maximum lead time of 5-days. This quick turnaround is especially important to emerging paint companies like Lick, as it allows them to react quickly to the ever-changing industry by growing and developing in relation to consumer demands.
"We use Springfield Solutions for all of our physical paint tins, we love their quick turnaround time and professionalism – which is especially important when we continue to launch new colours, ranges and collaborations at the rate that we currently are." Saul Gindill – Head of Operations
Lick also require labels that are bespoke in size and fit the style and look of their unique tins, which have a minimal, clean aesthetic. Digital print enables Lick to utilise bespoke label sizes in the required quantities for their products, including flexible ordering for varying designs.
For Lick, Springfield came highly recommended as we have worked with another trusted partner of theirs, and Lick were not disappointed.
"Working with Springfield has been so straightforward – the team are always helpful and keen to understand our needs – the development that goes into ensuring we get accurate colour matches each and every time is really appreciated." – Charlotte, Supply Chain Manager, Lick Home.
To find out how Digital Print can benefit your paint packaging, get in touch!