Case Studies
Skin Elixir New Product Launch Success
Our innovative digital packaging solutions allow the skincare brand Skin Elixir to continue to grow as a business and develop exciting new products with ease.
Who are Skin Elixir?
Skin Elixir is an organic skincare brand founded on ethical principles by founder, Shona Munro. The brand focuses on bringing kindness to customers' skin with their handmade skincare products.
In our previous case study for the brand, our team rebranded their product line to harmonise the quality of their products with the quality of their branding and packaging. The Springfield design team brought a premium feel to the Skin Elixir products, which were brought to life by our print team with metallic gold labels.
Digital Packaging Solutions for New Product Launch
The brand's most recent launch is an Intensive Night Cream, launched to complement the brand's 'nourish the skin you're in' range.
Packaging Design
When creating new labels and branding for Skin Elixir, we first begin with the product name, label size, copy required and initial design concepts, including iconography and colour schemes.
From these starting concepts, our team then create an appealing packaging design that fits alongside Skin Elixir's current product catalogue. For the brand's latest product packaging design, founder Shona also provided a jar sample so our team could test how the new label would look.
After our team provided a number of options for the Intensive Night Cream packaging design, they narrowed it down with Shona to decide on a final concept. The deep purple and gold design was then sent to the print team here at Springfield to be digitally printed, ready to be applied to the new products ahead of launch!
Packshots
Alongside creating the packaging design, our team also created 3D packshots for the new product launch to enable the brand to visualise how their new product would look before printing.
This form of digital prototype replaces the need to create multiple physical mock-ups, therefore cutting overall costs and creating an effective digital packaging process.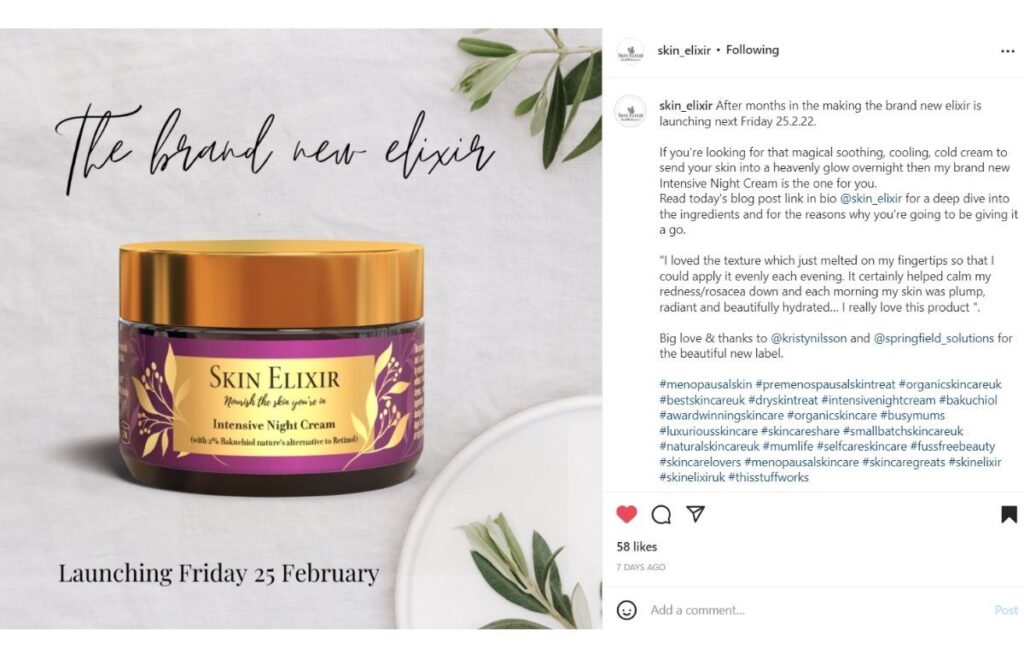 Not only this but these 3D digital packshots can also be used to your advantage for marketing campaigns across social media, as seen on Skin Elixir's Instagram post above.
Digital Processes Push Brand Success 
Skin Elixir has seen a 90% sales growth in 2021, going from £12,762 in sales in 2020 to £24,311 in 2021. Their average customer spend also rose from £25 to £33, showing that customers are exploring more of the brand's products, including new products launched in 2021, including Joie De Joie in the Spring and the Super Natural Oil in the Summer.
The brand has excellent growth potential coming into the new year, as their customer share currently sits at 40% existing and 60% new. Showing that as the brand's product catalogue continues to grow, so does the business and customer base. Planning for 2022 and beyond, Skin Elixir is excited to launch new products and utilise digital packaging solutions to boost their brand.
"The work Kristy and team have done is just fabulous. The marriage between the quality of my products and the classic, timeless, elegant, and luxurious style of the digital labels with the gold foil and beautiful colour palettes means I have packaging that will stand the test of time. I am so glad we didn't go for faddy, cool designs but solid, classic, and honest ones. The packaging has without doubt, helped me to build trust with customers. Thank you!" Shona Munro, Skin Elixir.
To discover how digital print can benefit your brand, get in touch to discuss your packaging project today!