Insights
5 Essential Elements of Product Label Design
Product Label Design is imperative when launching and creating a product. After all, what would a product be without an appealing label design? And how would you attract consumers without it?
Your product label design has one overall main purpose: to appeal to your consumer. High visual appeal sparks consumer curiosity, leading them to want to find out more about your product. Not only that, but your label design must also serve the purpose of informing the customer of what the product is and who your brand is!
But brand owners may ask, where do I start when creating a product label design, and how do I ensure it is a successful marketing tool?
Our in-depth decades-long experience in brand management and packaging design here at Springfield Solutions has taught us a few things about just that. So, let's get into the 5 essential elements you must consider when creating your product label design.
1 – Software & Print-Ready Files
Before you even begin designing your product's label, you must first ensure that you are using the correct software to ensure that your final product is a high-quality label.
It may be obvious to some, but you should be using software such as Adobe Illustrator or InDesign to design your product labels. This is because these examples of design software allow you to work in high-quality vectors, which means your designs will not pixelate when resized and printed.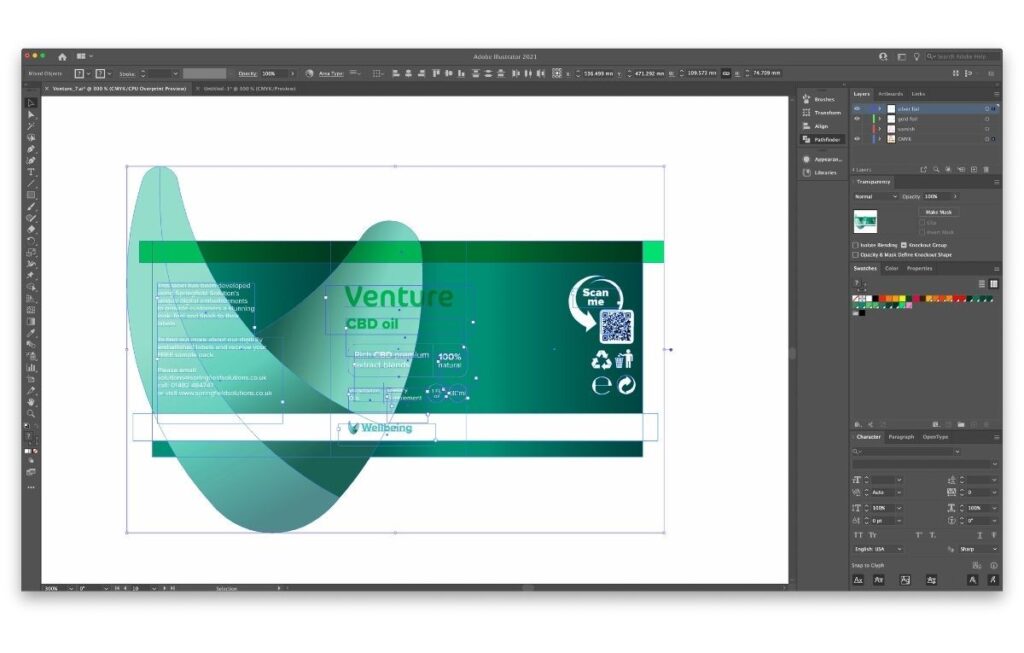 Once you have selected the appropriate design software, you must set up your files to be 'print-ready'. This includes setting up margins, bleed areas and ensuring that your file is set up using CMYK.
Unsure on how to set up your files for print? Get in touch about our Brand Management and Reprographics services!
2 – Label Size & Material
After setting up your files correctly, it is then time to decide on the appropriate label size and material for your product.
One thing to consider when thinking about your label size and material is, are you creating a new variation of an existing product? If so, consistency is key. By keeping the label size and material the same as the original, your product catalogue will serve more as a family of products.
Another thing to consider is what the industry standard is. And as a business, do you wish to adhere to that standard or emerge from the crowd with something unexpected? This will relate to the use of your product. Will the label encounter water when used? If so, waterproof material will be required.
All in all, it is important to choose a label size and material that is appropriate for your product. Ensuring that your label will fit correctly onto your chosen packaging component, perform well when used, as well as having enough room on the label to include all of the necessary information!
3 – Essential Information
When considering initial concepts, it is important first to note down the essential information you must include on your label.
The first things that come to mind will be both your brand and product name, as this is how you will both market your brand and product efficiently. You must ensure that your logo and product name is prominent so that consumers know instantly what they are buying and whom they are buying it from.
However, it is just as important to consider any legal requirements you need to include on a label. For example, warning labels, regulatory information or even barcodes for retail use.
By laying out the required essential elements that you will feature on your label, you will be able to create an efficient base layout for your design. Then it is time to move on to appealing to your target audience!
4 – Visual Appeal
When creating your label design, the main focus, of course, is to appeal to the consumer! Therefore, visual appeal is an essential element of product label design, enabling you to make your product attractive to the consumer at first sight (or touch!).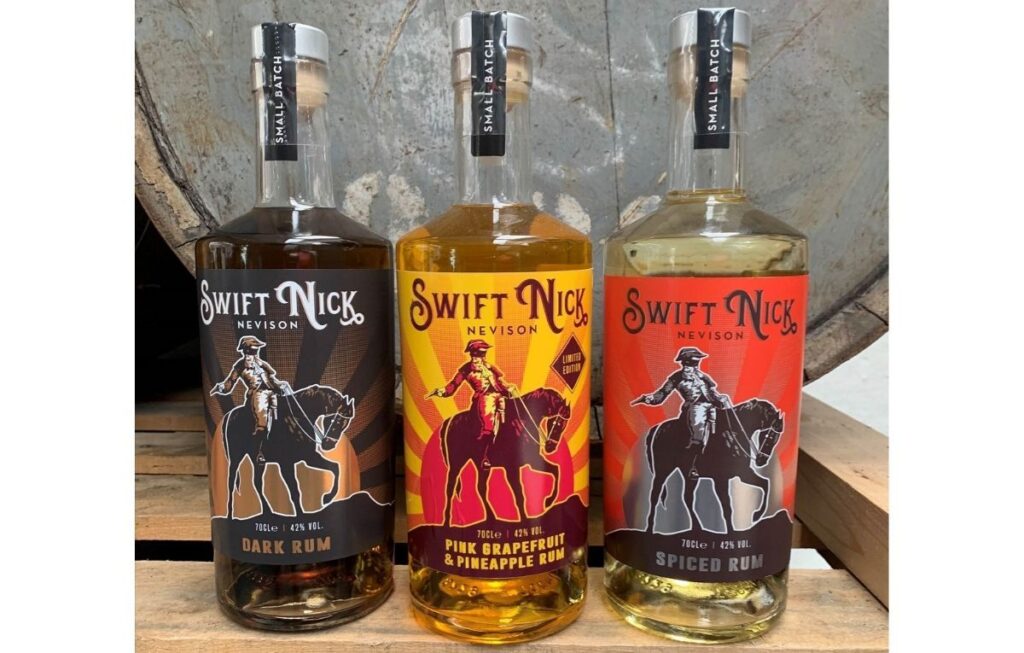 This may include using eye-catching imagery and iconography that matches your product's unique selling points.
You may also appeal to consumers with other sensory appeals using additional printed details. For example, embellishments such as making elements of your label design tactile with raised elements, foiled accents, or a matt varnish.
This allows you to draw in a consumer through how your product label design looks and how it feels.
5 – Functionality 
As important as it is to appeal to the consumer visually, it is also important to consider the elements of your label design that will be useful for a buyer. To do this, you must consider the function that your label serves.
Does it showcase your brand logo and product name as an accompaniment to an already visible product, such as on transparent food packaging? Or is the product itself not visible at all? Meaning the label must give as much information as possible so that the consumer knows what it is.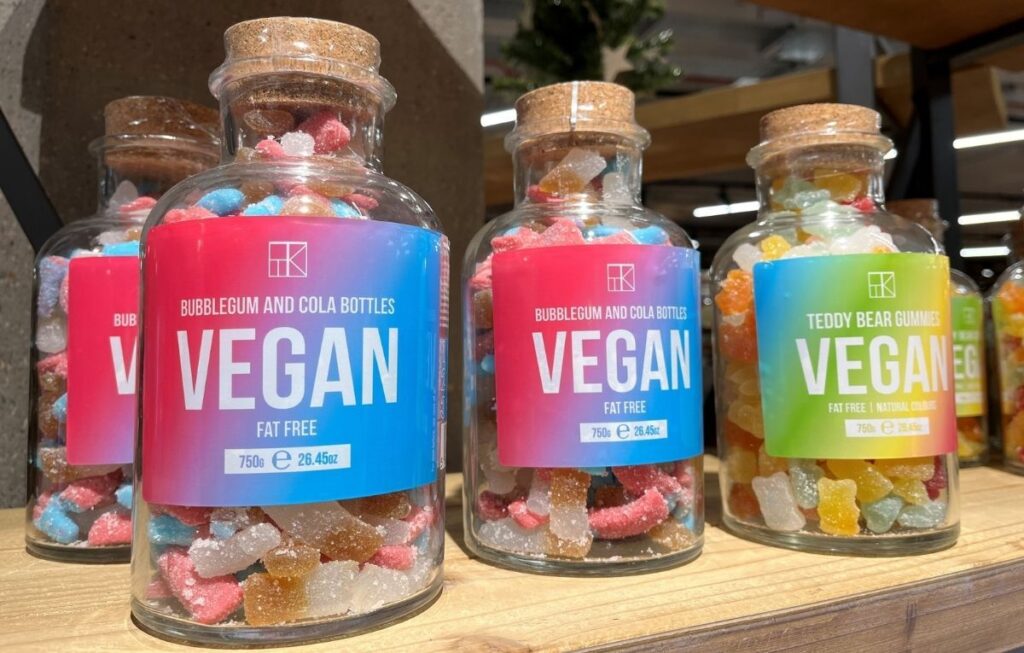 Your product label design must provide as much value as possible to the consumer to assist them in making a purchasing choice.
To conclude, it is essential to always keep your consumer in mind when creating a product label design. Including how it will appeal to them, how it will provide value and how it will perform when the product is used. Not only that, but it is also important to consider how your label design presents your brand. This includes a high-quality design, showcasing your logo and branding as well as appearing consistent across a range of products.
To discuss your latest product label design project, get in touch!
Click the button below to order your FREE sample pack of our label design examples today!
Would you like to claim your FREE sample pack?