Insights
Complete Can Packaging Solution from Springfield & Sure-Can
Printing directly onto cans was once the only viable option for brands, which led to high costs, high MOQs and slow lead times. However, digital labelling is a much more efficient way to package your canned products.  
We are excited to announce our partnership with Sure-Can Ltd to facilitate the labelling of your cans. Providing a flexible, fast solution to your can packaging. 
This is available for can sizes up to 1 Litre including 250ml, 500ml, 750ml and bespoke sizes. 
This service is a one-stop shop for can packaging. Reducing the need to source multiple packaging elements from different sources, your cans will be delivered to you with labels readily applied. 
This packaging solution is perfect for brands in many sectors including the Paints and Coatings industry as well as Automotive and Industrial applications. 
Digital Labels vs Printed Cans
Traditionally, brands that use cans for their packaging would purchase pre-printed cans for their products. This can leave you faced with long lead times and a large amount of stock to hold.  
In comparison, printed cans are decorated directly on the metal surface of the packaging, which often comes with high MOQs and reduced flexibility. Whereas with labelled cans you simply apply a label to a blank can, which makes for a much more flexible packaging solution across product sorts. 
The Benefits of Digitally Labelled Cans
Digital labels are incredibly beneficial to brands that use cans for their product. 
Zero MOQs
One of the main reasons being that the need to meet large minimum order requirements that typically comes with printed cans is eliminated.  
This is because digital labels have zero MOQs, which allows your brand to be much more flexible and cost-effective. You no longer need to order large quantities of printed cans that you don't need, or scrap cans that can no longer be used. 
Reduced Storage Capacity
Another benefit of using labels for canned products rather than printed cans is due to no longer buying large numbers of printed cans, you also no longer need large storage facilities to hold them in!  
Thanks to digital labelling, we have assisted several customers in saving both space and money by reducing their storage capacity. Therefore, making for a more streamlined packaging solution. 
Speed
Another benefit of digitally printed labels for can products is speed. Printed cans often have very long lead times. This can limit a company on product launches and leave you waiting a long time for your packaging.  
Whereas, using our service, your labels can be printed, applied, and shipped to you within 7 days from receiving approved artwork.  
Personalisation
As this is a digital service, it is extremely flexible! Each label on your order can differ, from personalisation to custom embellishments.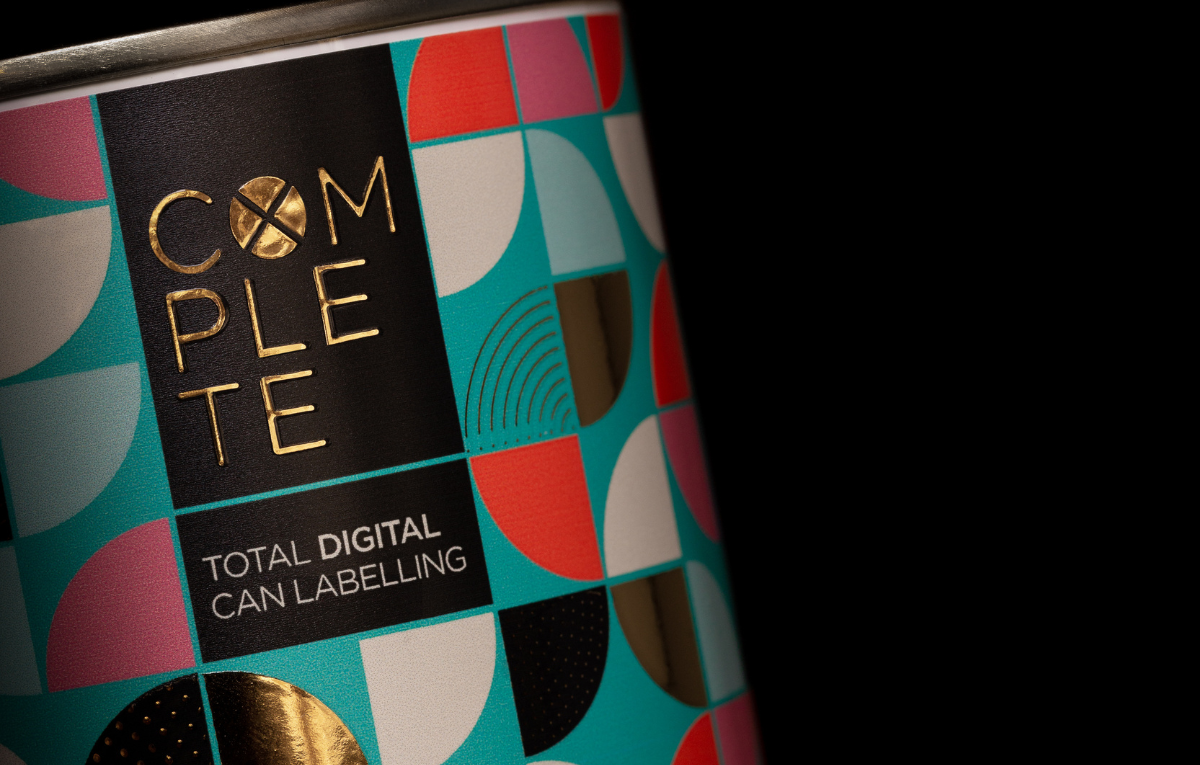 This allows you to be innovative with your packaging and create exciting, engaging products that your customers will love.  
Labelled cans also offer the advantage of being easy to make changes if a new design is needed. This is because amendments can easily be made to labels and reordered.  
To conclude, digital print offers your brand a flexible, cost-effective solution for can packaging. 
From increased flexibility to high-quality, personalised labels. Digital print has a wide range of solutions for brands of all sizes. 
For a 'Complete' can packaging solution, get in touch!