Insights
How to Fulfil Consumer Demand for Sustainable Packaging
Sustainable packaging is now a major factor when making a purchasing decision for many consumers. This level of influence increases as more people become aware of the environmental impacts of materials such as single-use plastic and synthetic fibres.
Despite the pandemic, many consumers have maintained their passion for eco-friendly products and materials, with awareness spreading daily.
Who is driving the demand for sustainable packaging?
In 2023, the percentage of consumers demanding sustainable packaging has risen.
According to Trivium Packaging's 2023 Buying Green Report, despite consumer prices increasing substantially due to global inflation, the demand for sustainable packaging continues to grow.
In fact, the study found that consumers are increasingly willing to pay more for products which use sustainable packaging. 82% of respondents overall would be willing to pay more for sustainable packaging. This is an increase of 4%  from 2022, and 8% since 2021.
Therefore, even with a declining economy, consumers still prioritise the environment for future generations. Younger consumers (18–24 year-olds) are even more willing, leading at 90%.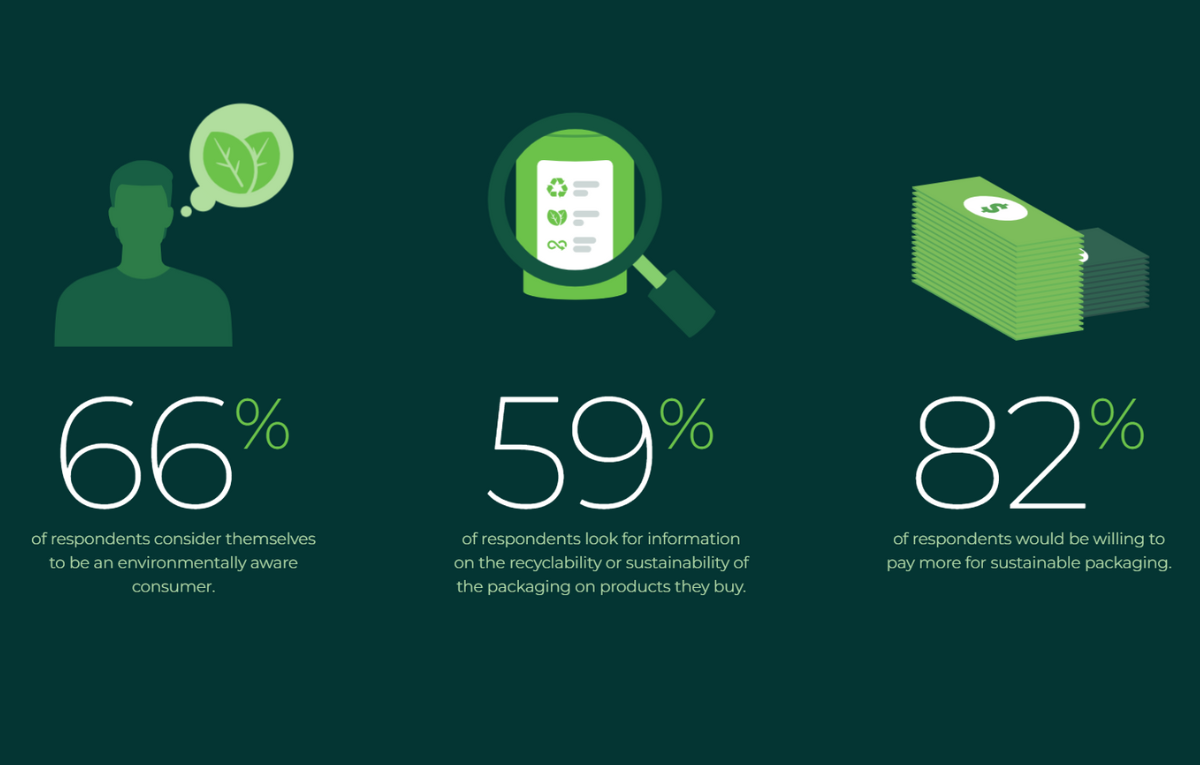 This change in purchasing behaviour leads us to ask, how do you fulfil the unprecedented global demand for sustainable products and packaging?
How to make the Eco switch
Recyclable packaging
It is important to encourage both consumers and producers to reduce, reuse and recycle. According to Trivium's Report, 66% of consumers identify themselves as 'environmentally aware'.
When it comes to labels, the process of removal to ensure that the product component is recycled to the highest grade can cost a lot of energy. This is because removing a typical label adhesive requires the use of heat.
However, we now offer labels that feature wash off adhesive within our new Eco Zone label materials. This allows packaging such as PET containers to be recycled to the highest grade, as the label can simply be removed with water. Therefore, allowing packaging to be recycled more efficiently.
Utilising recycled content
64% of consumers also find it essential that product packaging contains recycled content. This enables a more circular economy of packaging, in which post-consumer content is used to create new packaging. This is most efficiently achievable with metal, as it has the capability of being infinitely recyclable.
Using post-consumer waste enables our at-home recycling to be reintroduced into the supply chain and be given a new purpose, thus resulting in a more sustainable packaging option.
The UK Government also introduced the Plastics Packaging Tax in April 2022. This regulation encourages businesses to use at least 30% recycled content within their plastic packaging. This provides businesses with an economic incentive to use recycled material in plastic packaging. In turn, generating a greater demand for recycled materials and increasing recycling and collection of plastic waste, diverting it away from landfill or incineration.
You can also integrate recycled content into labels using our Eco Zone 'Recycle' labels. These labels include PCR (post-consumer resin) and PIR (post-industrial recycled content). With options such as labels made of 99% recycled fibres from PCR and 100% renewable wood-based raw materials.
Switching packaging materials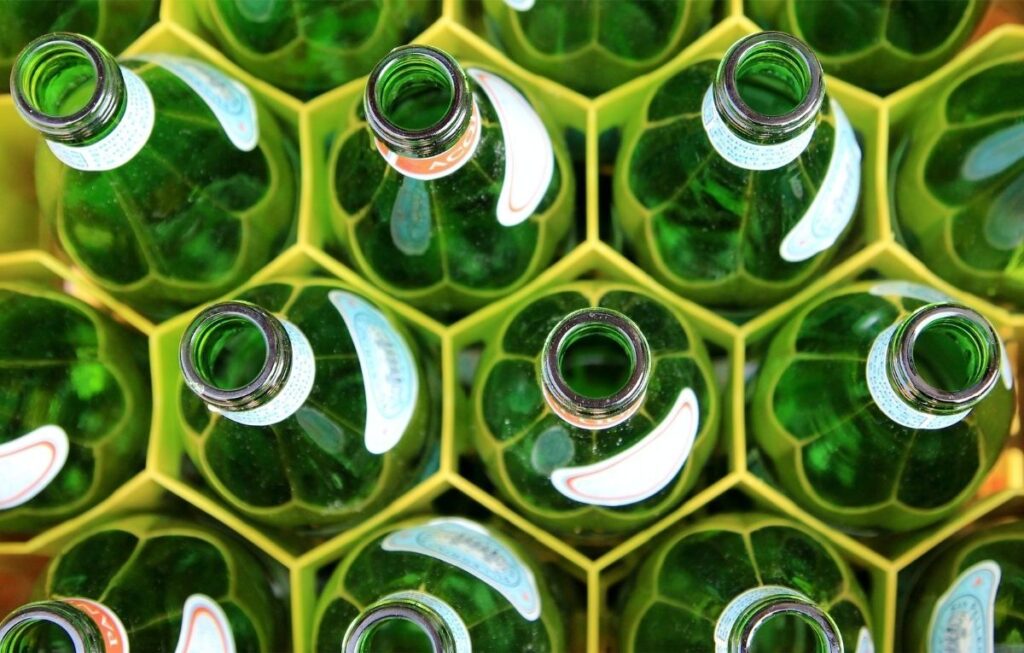 According to Trivium Packaging, 63% of consumers associate plastic with ocean pollution. The growing issue with plastic waste has dominated consumer concern in recent years, as environmental documentaries have increased in popularity. The study also found that consumers associate plastic with being wasteful and harmful to the environment.
This shows that the marketplace is creating a large demand for packaging components that are made of more sustainable materials, such as glass and metal.
Reducing label waste
Another option from our Eco Zone sustainable label materials is our 'Reduce' category. This option reduces the amount of material present in our labels to scale down the amount of product that ends up in landfill.
By utilising lower density films and downgauging the label materials, including face and backing materials, the overall tonnage of wasted product is reduced. This contributes to the demand for eco-friendly packaging and reduces the impact of a business on the environment.
Honesty about packaging materials and recyclability
Consumer perception of packaging materials, especially the heavily negative perceptions of plastics, often stems from an unclear recyclability knowledge. Therefore, it is essential to be honest about your packaging materials and if they can be recycled or not.
This education and clarification on the recyclability of certain materials will showcase an ethical stance on sustainability from a brand.
Trivium's report showed that 59% of respondents are looking for sustainability information on a pack.
Therefore, increasing the amount of readily available fact-based information on recycling will enable a more circular economy for packaging. By encouraging consumers to recycle and even reuse product packaging, businesses will promote eco-friendly values within their brand.
FREE Eco-Friendly Label Samples
At Springfield Solutions, we are offering free sample packs of our Eco Zone label samples to businesses within all markets wishing to fulfil the consumer demand for sustainable packaging.
Our Eco Zone labels will allow you to reduce your environmental impact. With 10 material options across three categories; Reduce, Reuse and Recycle.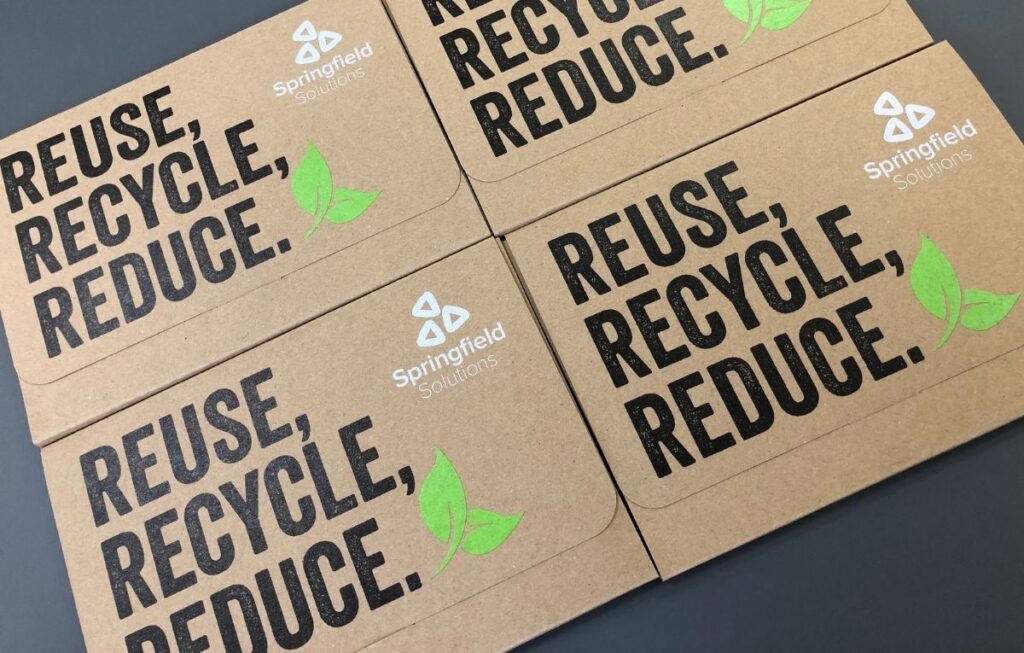 Make the all-important sustainable change with your packaging with digitally printed sustainable label materials.
Click the button below to start your sustainable packaging journey today.
Would you like to claim your FREE Eco Zone sample pack?