Insights
Smart, Sustainable & Inspired… Packaging 2019
Packaging design plays an almighty role in your brands identity, it's what consumers see, pick up and potentially makes them decide between you and your competitor, it's a literally the last touch point, that you can talk to your consumer and make them want to buy your products.
One month into 2019 and we are already starting to see what's hot and what's not when it comes to packaging trends for this year. 2018 brought us lots of innovative and fresh ideas to experiment with, with the use of Augmented Reality (AR) bringing the consumer experience to life by helping them get immersed & connected with the products packaging. Smart packaging is one area, that's sure to continue to amaze us. There is definitely something to be said about disrupting a traditional category with digital technology and making your products become 'instagram-worthy' and putting them on the map. Your packaging is another channel for you to engage with your customers, don't be scared to use it to its full potential, people buy experiences, not just products.
Ethical Packaging
Consumers now more than ever are highly sensitive to the environmental implications of packaging, which means sustainability is still a key concern for governments and businesses as they come under more scrutiny to make their products and processes more sustainable.
It will continue to be a hot topic in the world of packaging as we continue into this year, in May 2018 we saw the worlds first plastic free trust mark launch, the brainchild of environmental campaign group 'A Plastic Planet', which will be awarded to food and drink products that are packaged without the use of plastic. Therefore, as a brand owner there is a huge responsibility around the knowledge you have of the materials you use, by providing products that incorporate post-consumer recycled products, recyclable materials, or simply reducing the amount of packaging used, this can only leave a lasting positive impression on your consumers and may lead to an increase in sales
Be Authentic – Tell Your Story
The 'craft' phenomenon has taken the world by storm over the last few years, with more and more independent breweries and distilleries starting up. The most fundamental part of a craft brand is its intrinsic story that gives the brand authenticity, a meaning behind the product giving it a sense of humanity compared to the larger corporations. It provides the consumer with a brand experience, when they can get to know how the brand originated, it can create value to the product itself. Opting usually for something natural in their branding, with a tactile feel. This phenomenon is going to continue into the next year, with more brands heading for either the minimalistic look, aiming to be transparent and upfront, letting colour and typography take to the stage and letting your product speak for itself or the Maximalist look, taking artwork and design to the extreme, with the use of bold bursts of colour with lots of attitude inspired by illustrations and surrealism.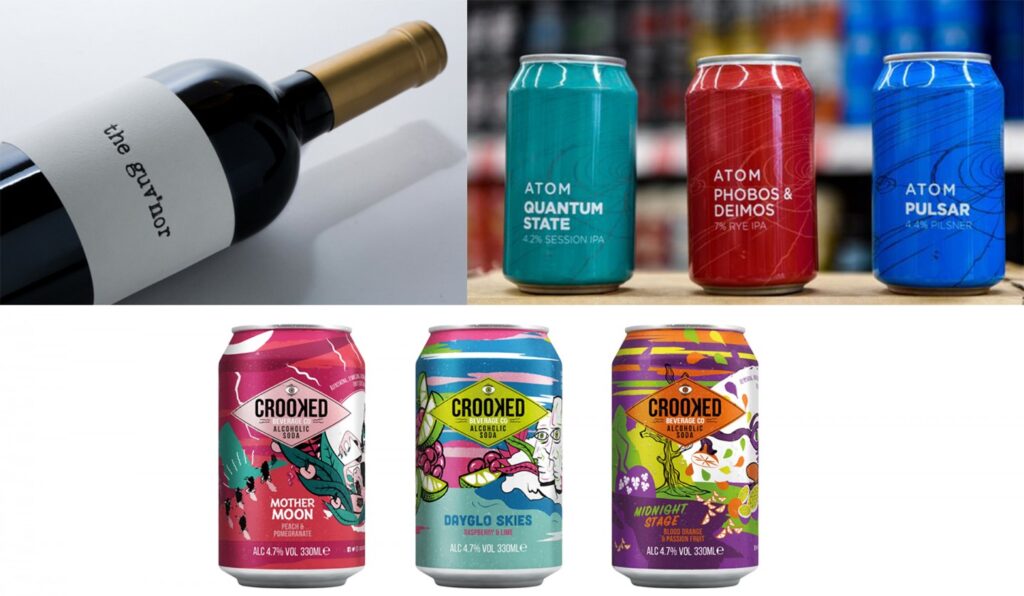 But it doesn't just stop there, package designs that recall vintage elements, colours and typography with a refreshingly modern take, will be another highlight for 2019. Vintage designs convey exclusivity and sophistication and will draw in consumers looking for an artisanal quality and experience. Consumers will feel they have invested in something rather just made a one-off purchase.
Be Bright, Be Bold
Every year Pantone choose a 'colour of the year' – this year they chose Pantone 16-1546 Living Coral, so what does this mean for the packaging world? We aren't suggesting every label, carton, flow wrap, or tube will all be coral coloured, but we can deduce that there is a real desire for buoyant, vibrant and effervescent colours – describing it as "an animating and life-affirming coral hue with a golden undertone that energizes and enlivens with a softer edge." This could mean the use of flat bold colours, or gradients which offer packaging designers the possibility to create something with depth that feels fresh, using bright and exciting colour combinations which looks fantastic in digital formats.
Given the wide variety of trends hitting the industry, we don't think you can go wrong if you have a great insight to your consumer target markets. Just remember, be smart, be sustainable and be inspired….
If you would like to discuss your packaging further, perhaps you want to trial a new tactile finish to give your packaging a premium feel or want to know what your packaging would look like in matt, with a spot varnish and metallic gold finish? Our packaging mock up service Mock>it enables companies to get their final packaging concepts exactly right before they hit the shelves, saving them time, money and ensuring a successful product launch.
Contact the team today on 01482 484704 or email solutions@springfieldsolutions.co.uk
We will be heading over to Packaging Innovations at Birmingham NEC on 27th February, so watch out on our social media channels for more updates and inspirations on packaging trends in 2019…