Case Studies
Smart Connected Packaging Solutions for a Brainy Bar!
Connected Packaging is one of the latest trends in FMCG. Most companies come to us wanting a smart solution, but few more so than the latest health bar to hit the UK's supermarket shelves.
Brain Works is the first health bar designed to sustain and enhance your brain as well as your physical health and is packed full of goodies that stimulate the old grey matter.
The team behind the bar approached Springfield Solutions because of our extensive packaging expertise. They already had an attractive and engaging packaging design, but they needed that to go further. They needed the types of services that Springfield Solutions excels in, from ensuring their brand graphics displayed flawlessly on their chosen packaging type, to creating a connected packaging solution which enable consumers to access further product information and engaging online content.
In common with most health bars, Brains Works opted for a foil wrap as the primary source of packaging. To ensure the end product looked fantastic, our Brand Management team carried out all of the reprographics on the wrap, balancing the graphics with the required nutritional information.
As is often the case, this process involved our dedicated packaging prototype service mock>it, which utilises short-run digital print to create mock ups in small numbers for analysis. Because we can create such small amounts of packaging – down to a single unit if required – mock>it is incredibly versatile when needing to get to the final packaging design quickly. Prototypes can be printed, tweaked and re-printed as many times as necessary until the packaging is perfect. Then the final version is easily scaled into a full production run.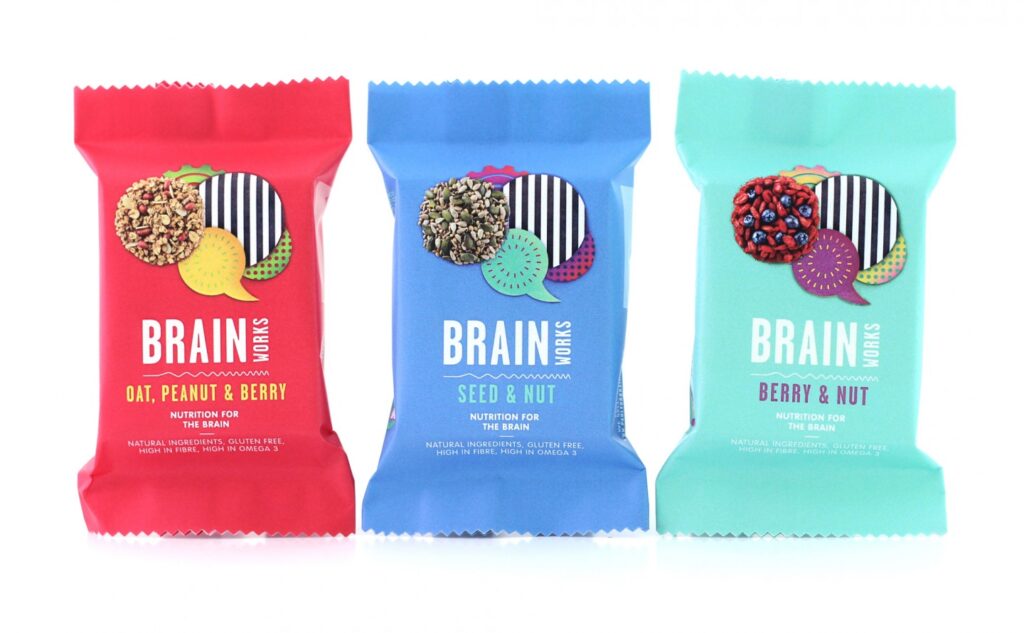 Getting the reprographics right was just half the Brain Works story, however. Next comes the really clever bit.
Earlier this year, we predicted a growth in the use of connected packaging that enables consumers to scan product packaging with an internet enabled mobile device, to access a range of online content.
For Brain Works, this meant further nutritional information in relation to how the bar's ingredients help cognitive function, as well as quizzes and puzzles aimed at helping people exercise their grey matter.
We achieved this via a mobile app and some clever data which is embedded in the packaging itself. When scanned, the app reads the data and directs the mobile device to Brains Works' website where the user can find all sorts of useful information and clever puzzles.
This kind of connected packaging is becoming more common among consumer brands, particularly those with an obligation to provide consumers with a large amount of information.
Brain Works' use of it provides a more immersive experience for the consumer and enables the company to support its brand proposition with a host of engaging and relevant content.
With a name like Brain Works there was no question that the team behind the health bar wanted a range of smart solutions. With our expertise in Brand Management and reprographics, and our connected packaging solutions, we think we provided exactly what the doctor ordered.
If you would like to know  more about connected packaging or how we can help bring your packaging ideas to life., contact the team today on 01482 484700 or get in touch here.